Students secure external moot success
Students secure external moot success
Western Law students gained valuable skills and scored some impressive finishes at a variety of external moots held over the past few months.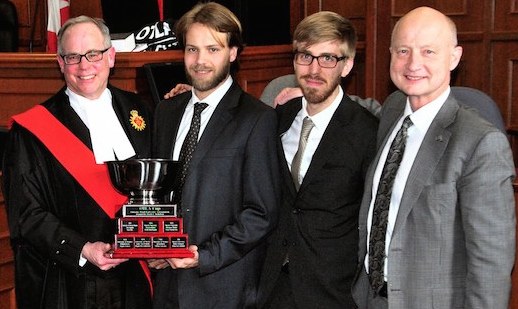 The Western Law team of Sean Lewis and William Samson-Doel took first-place in the 2015 Ontario Trial Association Lawyers Association (OTLA) cup. The prize is awarded to law students who exemplify the best in trial advocacy. Congratulations as well to team members Kristen Ogden and Robert Alfieri (alternates) and coaches Andrew Camman and Joyce Thomas.

Western Law placed third overall and Vivian Li won 2nd Best Oralist at the Walsh Family Law Moot Competition held March 14 at Osgoode Hall. The team faced off against schools from Ontario and Manitoba on the issue of division of net family property between separating spouses. Congratulations to team members Kaitlyn Armstrong, Vivian Li, Dasha Peregoudova, Bobby Jones, Researcher Bianca Carlone and coaches coach Erin Reid and student coach Greg Zambrzycki.

Western Law's Jessup Team finished 3rd overall out of 13 Canadian law schools represented at the qualifying rounds at the Jessup moot competition in Halifax. The team also was awarded best respondent memorial prize and second best overall memorials. The Team of Chenyang Li, Michael Barrett, Jessica He, Matt Aleksic and Larrisa Fulop along with Faculty Advisor Prof. Sara Seck and Student Coach Jacob Damstra advanced as an Exhibition Team to the Jessup International Rounds, held in Washington D.C. April 5-11.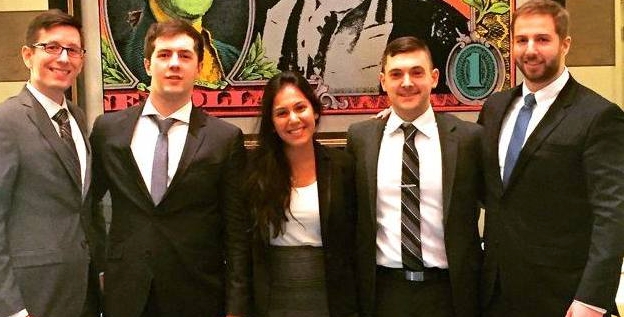 Eric Dumschat, Mark Bissegger, Devon McIntyre, Nic Wall along with Faculty Advisor Andrea Wojtak and student coach Aparna Bhushan took second place at the  Niagara International Moot Court Competition in Washington, D.C. Mark Bissegger and Devon McIntyre also won an award for best applicant memorial. The competition draws teams from law schools across North America to adddress a hypothetical dispute affecting the bi-lateral relationship before the International Court of Justice. The Moot is sponsored by the Canada-US Law Institute.
Western Law's Laskin Moot Team performed well at this year's competition. The team members included: Prateek Gupta, Garrett Horrocks, Pia Anthonymuttu and Brandt Chu, researcher Michael Slattery and student coach Chelsea Smith and Adam Campbell & David Moffat (coaches). Gupta and Horrocks won third best appellant factum; Anthonymuttu and Chu won fifth best respondent factum; and Anthonymuttu won second best oralist and top respondent oralist. A special congratulations to Brandt Chu and Garrett Horrocks for mooting in a second language.