New curriculum to provide increased learning options
New curriculum to provide increased learning options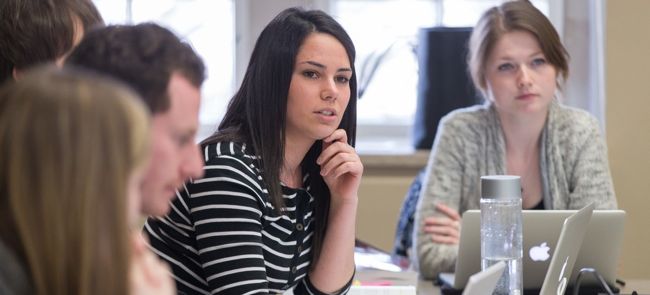 Western Law is excited to announce several changes to its curriculum beginning in the 2015-16 academic year. These changes are intended to expand students' options and provide greater opportunities for advanced, active and experiential learning.
"We're committed to introducing enhancements to our JD program to ensure our students have the curricular and co-curricular experiences they need to succeed in their chosen careers," says Dean Iain Scott. 
Starting in the fall of 2015, first-year students will take a new, blended course entitled "Orientation to Law & the Legal System." The course introduces students to foundational legal concepts and skills through online modules and short writing exercises. It will also feature an intensive three-day period of training in Alternative Dispute Resolution, led by experienced practitioners and featuring simulations, feedback and reflection.
In upper years, students will gain additional opportunities to practice their professional writing skills through a new writing requirement. This may include court documents like pleadings and facta, statutory interpretation and legislative drafting exercises, legal memoranda and contracts.
"The ability to write clearly and persuasively is a key skill for all legal professionals," says Associate Dean (Academic) Erika Chamberlain, "and writing skills are only improved through continuous practice and feedback. We want to ensure that students continue to build their writing skills during all three years of the JD program, in a wide variety of professional formats."
In addition, a series of curricular streams have been developed to provide students with informal guidance on the courses and co-curricular activities they may wish to pursue in light of their interests and career aspirations. The streams will help students understand the relationships among courses and progress toward more advanced study in a particular area.
Each curricular stream will culminate in an optional "capstone" course in the spring term of third year, beginning in 2017, which will bring together theoretical, practical and interdisciplinary components and will require students to apply the knowledge and skills that they have gained over their course of study.
The capstone courses are intended to assist students in making the transition from legal education to legal practice. 
Also in 2015-16, first-year students will have the option of taking Corporate Law in their winter term, an opportunity unique among Canadian law schools. This provides greater flexibility to students in their upper-year courses and will allow students who are interested in business law to take more advanced courses in their second year. It will also introduce students to the corporate form of organization, which is fundamental to many areas of legal practice.
 "The approach to legal education continues to evolve in Canada," says Dean Scott. "Western Law is actively engaged in this debate and at the forefront of exposing our students to a diverse, inter-disciplinary and rigorous academic experience."