January Term enriches student experience
January Term enriches student experience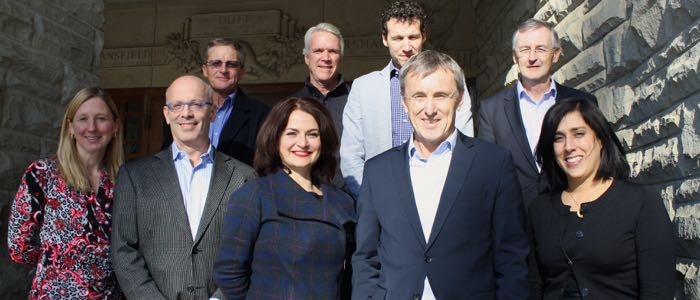 (clockwise) David Grinlinton, Dean Iain Scott, WIlbert Kolkman, Ian Scott, Reena Bhatt, Paul Rishworth, Michala Meiselles Jinks, Kenneth Frankel and Erika Chamberlain
Eminent practitioners and legal academics from across the globe will join Western Law this month to teach during the school's unique January Term.
The January Term provides upper-year students an opportunity to study a subject in a month-long intensive course setting.
"The Term allows students to study with leading experts, and to gain in-depth knowledge in a particular area of legal study," says Erika Chamberlain, Western Law's Associate Dean. "The small-group setting gives the opportunity for intense interaction and simulations, which teach the students valuable professional skills."
This year's visiting faculty will teach a wide range of subjects including: International Business Negotiations; Family Law: Comparing Europe and Canada; Access to Justice; Canadian Charter in Comparative Common Law and Police Accountability & the Law.
"Our visiting faculty bring a global perspective to the students," Chamberlain adds.
One of the visiting faculty is Reena Bhatt, a Western Law alumna and partner in Ernst & Young's International tax practice in New York.
"It's always enriching to come back to the law school," says Bhatt.
"I'm eager to share my professional expertise with the students and engage with professors and practioners from abroad," she says.
The 2015 January Term Faculty are:
Reena Bhatt, Partner at Ernst & Young; Kenneth Frankel, Former Chair of the Canadian Council for the Americas; David Grinlinton, University of Auckland, Stephen Dattels January Term Fellow in Mining Law and Finance; Brian Graves, McCarthy Tetrault; Jay Hoffman, Miller Thomson LLP; Jason Hynes, Bereskin & Parr LLP; Wilbert Kolkman, University of Groningen, James G. McLeod Professor in Family Law; Wendi Locke, McCarthy Tetrault; Michael Lerner, Lerners LLP; Michala Meiselles Jinks, Université Jean Moulin; Paul Rishworth, University of Auckland; David Schnurr, Miller Thomson; and Ian Scott, former Director of Ontario's Special Investigations Unit.