Access to Justice: Exposing Students to Barriers and Solutions
Access to Justice: Exposing Students to Barriers and Solutions
February 03, 2015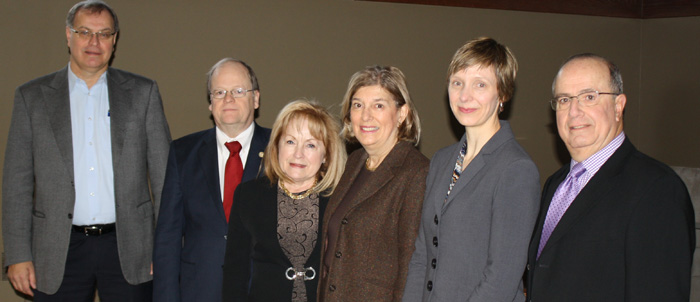 Access to justice is one of the most significant challenges facing the legal profession in a generation. A new 'Access to Justice' course at Western Law exposes students first-hand to this pressing issue through a series of community placements and lectures by key stakeholders.
This January term course, coordinated by well-known London lawyer Michael Lerner and Western Law Associate Dean Valerie Oosterveld, analyzes critical barriers to equal justice inside and outside courts, and explores solutions to reduce or eliminate these barriers.
"The students heard from outstanding speakers in every class on issues such as therapeutic criminal courts for individuals with mental health issues, growing numbers of self-represented litigants in family courts, and the role of paralegals in improving access to justice," says Oosterveld. "The students were also directly exposed to a range of access to justice challenges through their twice-weekly community placements."
Guest speakers included Crown and defence counsel, clinic lawyers, police officers and community activists. Among the lecturers were Supreme Court of Canada Justice Thomas Cromwell, Ontario's Attorney General Madeleine Meilleur, Chief Justice Annemarie Bonkalo of the Ontario Court of Justice, David McKillop of Legal Aid Ontario, Assistant Crown Attorney Mary Potter, and Deb Selwyn of the Canadian Mental Health Association.
Justice Cromwell chairs the Action Committee on Access to Justice in Civil and Family Matters. Under his leadership, the Committee published the groundbreaking report "A Roadmap for Change" in 2013.
Students were exposed to current access to justice problems at the ground level through a range of community placements including with Pro Bono Law Ontario, Criminal Court Duty Counsel Office, Family Court, Unity Project for Relief of Homelessness in London, and Western Law's Community Legal Services clinic.
The unique combination of in-class contact with individuals working on access to justice issues and the community placements was valuable. "The Access to Justice course has been an extraordinary and truly eye-opening experience. From both the in-class panel discussions and my community placement, I have learned that we need bravery, compassion and creativity to lead us out of our access to justice crisis," says Chelsea Smith, a student in the course.
Natalie Carrothers, another student in the course, adds: "The topics covered in the access to justice course have raised my understanding of challenges Canadians face on a daily basis. This awareness should be made mandatory for all law students in Canada, as it reinforces the need for those entering the profession to take accountability for these deficiencies and to work towards resolving these problems."
Thanks are extended to Doug Ferguson, Director of Western Law's Community Legal Services, for the concept for this course.