Western Law serves up moot success
Western Law serves up moot success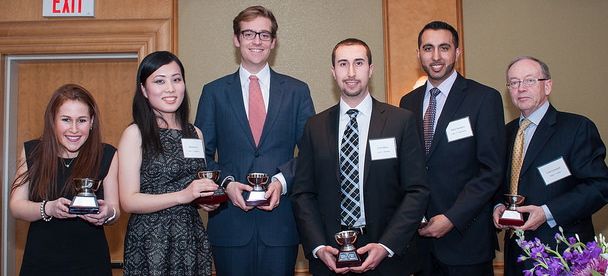 Western Law had a successful showing at a number of external moots this past year.  At the Wilson Moot, held February 21-22 in Toronto, the team of Michael Castella, Natalie Carrothers, Regan Christensen, Rachel McMillan and Jon Viner with Faculty Coach Adam Parachin, was top-ranked going into the final round and ultimately placed second. Western Law student Regan Christensen won the award for Top Oralist. The Wilson Moot explores legal issues concerning women and minorities, and promotes the education of students and the legal profession in these areas of pressing concern.
Western Law won the award for best appellant factum at the 2014 Donald G. Bowman National Tax Moot held in Toronto February 28 and March 1.The winning Western Law team (pictured above) was comprised of Samantha Wolfish, Michelle Qu, Richard Zsolt, Chris Marta, Rahul Gandotra and coach Prof. Colin Campbell. The Bowman Moot is Canada's first competitive moot on taxation and is named after the Honourable Donald G.H. Bowman, former Chief Justice of the Tax Court of Canada.
Janice Calzavarra, Corey Critch, Stephanie Curcio, Evan Kopiak and Jordan Neal, coached by Harj Mann, represented Western in the Sixth Annual Harold G. Fox Intellectual Property Moot in Toronto on February 21 and 22. Appellants Jordan Neal and Evan Kopiak finished first overall in the preliminary rounds and advanced to the final panel where they appeared before Chief Justice Rothstein of the Supreme Court of Canada, The Hon. Ian Binnie, Justice Feldman of the Ontario Court of Appeal, Justice Stratus of the Federal Court of Appeal and Justice Hughes of the Federal Court.
Western Law student William Samson-Doel won the Dickson Medal for Exceptional Oralist Performance in the Preliminary Round of the CBA Gale Cup Moot held February 21-22. Brian Farmer coached the Western team that included Sharon Au, Charles Binns, Andrew Nicholl, William Samson-Doel and researcher Bianca DiBiase. The Gale Cup Moot is Canada's premier bilingual law school mooting competition.
The team of Lindsay Board, Jacob Damstra, Claire Lehan and Rebecca Olscher, and researcher-of-counsel Kimberly Ruiter, made Western Law history in winning the Top Overall Memorials award at the Canadian rounds of the Philip C. Jessup International Law Moot Court Competition held March 12-16. This is the first time in its 39-year involvement with the Jessup that Western Law has won this award.