Visiting prof offers expertise in international trade
Visiting prof offers expertise in international trade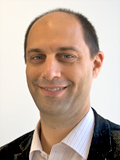 Law professor Bryan Mercurio from The Chinese University of Hong Kong taught an intensive course at Western Law on International Trade Law, Investment and Health from September 8-12.
Mercurio, a specialist in international economic law, has worked in both government and private practice and advised law firms, international organizations, NGOs and several governments on a wide range of international trade and investment matters.
The intensive course focused on health-related aspects of international trade and investment law. It also explored the impact of the World Trade Organization, free trade agreements and bilateral investment treaties on health and health policy.
"Bryan Mercurio is quickly establishing an excellent reputation for himself and his work in Asia and beyond, especially in the field of international trade regulation and intellectual property," says Prof. Chi Carmody.
"I'm delighted he was able spend time with us this term and offer his expertise to our students."
While at Western Law, Mercurio also participated in the International Economic Law Works-in-Progress Workshop hosted by the Canada-U.S. Law Institute on Sept. 13.