Student papers capture Insolvency Institute awards
Student papers capture Insolvency Institute awards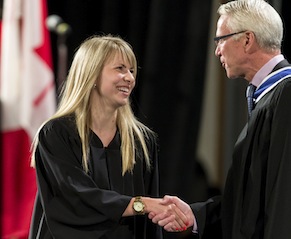 Tori Crawford '14 (pictured left) has won first place in the 2014 Insolvency Institute of Canada's law student writing award competition. Crawford received the accolade for her paper "The 'Collision Course' Continues: Recent Developments in the Intersection Between Insolvency Law and Environmental Law", a paper she wrote for a course taught by Professor Richard McLaren.
The Institute has also awarded Shawn Therien second prize in the IIC Law Student Writing Awards Program for his paper "Out of the Woods: The Relationship Between Insolvency and Class Action Law."
The paper was originally submitted to Prof. Telfer's Bankruptcy and Insolvency Law course.
The purpose of the IIC Law Student Writing Awards Program is to stimulate interest among law students in the research and development of papers based on corporate insolvency and restructuring topics, and to recognize outstanding achievement in this endeavour.   
"I first became interested in insolvency law while working for Professor McLaren as a researcher," says Crawford.  "Completing this essay was a great opportunity to explore a number of developing issues in insolvency, restructuring, and environmental law."
Therien will receive a check in the amount of $3,000. Crawford, who is currently clerking with the Ontario Court of Appeal, will receive a cash prize of $5,000 at the 2014 Insolvency Institute's Annual Conference held in Quebec City on September 20.