Richard McLaren recipient of Huron Alumni Award of Distinction
Richard McLaren recipient of Huron Alumni Award of Distinction
September 25, 2014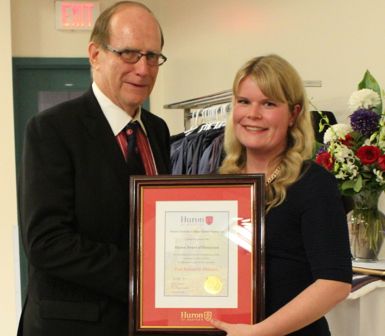 Western Law professor Richard McLaren was the 2014 recipient of Huron College's Alumni Award of Distinction. The award is presented for outstanding achievement in a professional field and community service, enriching the lives of others through generous gifts of time and talent.
McLaren was nominated by Ian Skaith, Huron alumnus, Class of 1969.
A well-respected lawyer, educator, and internationally recognized dispute resolution arbitrator, McLaren lived in O'Neil Residence at Huron in 1964-1968. He has been a member of the Corporation of Huron University College since 2009 and was Chairman of the Board of Trinity College School, stepping down in 2002.
He is Counsel with McKenzie Lake Lawyers LLP and Senior Law Professor at Western University. In addition, he is the founder of Innovative Dispute Resolution and he also established McLaren Global Sport Solutions.
McLaren has a wealth of international experience and his expertise is well respected throughout the world. He has memberships in the Court of Arbitration for Sport in Lausanne, Switzerland, the Beijing Arbitration Commission, the London Court of International Arbitration and the Dubai International Arbitration Centre and here at home in the Sport Dispute Resolution Centre for Canada.
He has been called on frequently to exercise fair decision as an on-site arbitrator at the Nagano and Torino Winter Olympic Games; the Sydney, Athens and Beijing Summer Olympic Games; as well as the Commonwealth Games and the World Cup of Soccer.
He's the editor of several legal publications and his expertise in the areas of commercial, bankruptcy and sports law has resulted in publications that are regarded as leading scholarly works in their fields.