Lerners Cup fuels appellate advocacy skills
Lerners Cup fuels appellate advocacy skills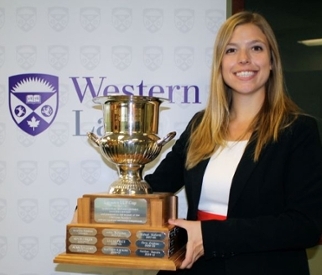 Jessica Wuthmann won Top Oralist at the 2014 Lerners Cup, an advocacy competition that provides law students the opportunity to argue a hypothetical case before an appellate court.
116 students participated in this year's competition.
Top team honours went to Kendra Swallow and Lauren Crosby, with Michael Barrett and Jenelle van Parys winning Best Appellant factum and Alex Kagan and Simon Cox taking home the prize for Best Respondent factum.
The teams made their submissions before a panel of judges consisting of Michael Lerner of Lerners LLP and Justices Rogin and Perkins of the Ontario Superior Court. 
The fact pattern for the competition was drawn from Cuthbertson v. Rasouli, a recent decision of the Supreme Court of Canada addressing the statutory and common law regimes governing the removal of life support for an unconscious patient. 
Professor Bradley Miller, the faculty director of the Lerners Cup, praised the competition as an excellent education in appellate advocacy.
"The Lerners Cup requires a heavy investment from the participants, but the rewards are great, particularly for the eight finalists who gain insight into what real oral advocacy requires," he said.  "It requires the lawyer to know the case backwards and to be able to abandon the script and tailor submissions to give the judge exactly what he or she needs."
The Lerners Cup was organized by Advocacy Committee Co-Chairs Aparna Bhushan and Sharon Au, who harnessed the volunteer efforts of local members of the bar, and a large number of students who volunteered as preliminary round judges and court clerks. Professor Miller also noted the outstanding and ongoing support of Lerners LLP, sponsors of the competition.
View more photos on Facebook