Law student paper winner in global academic competition
Law student paper winner in global academic competition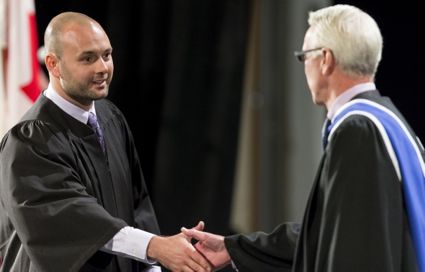 Shawn Therien '14 (pictured left) has been named among the international winners of The Undergraduate Awards, a worldwide competition recognizing top undergraduate work.
He received a "Highly Commended" recognition in the competitive international competition for his law student paper "Out of the Woods: Sino-Forest, Third-Party Releases & the Relationship Between Insolvency & Class Action Law".
Eleven other Western students were recognized as 'highly commended' (among the top 10 per cent) in their fields.
"Being named to the highly commended list or taking top prize in a category means our students rank among the world's most creative thinkers and problem solvers," said Janice Deakin, Western provost and vice-president (academic).
Through the competition, student work in 25 categories was judged against peers from 206 universities, across 27 countries. Winners were selected out of 4,792 submissions.
Therien's essay was originally submitted to Prof. Telfer's Bankruptcy and Insolvency course.
"This is a superior piece of law student writing and the third time Shawn's paper has been recognized in a legal writing competition," said Telfer.
Therien, an articling student at Gowlings LLP, will attend The Undergraduate Awards Global Summit in Dublin, Ireland, in November. 
The Global Summit is designed to celebrate outstanding students from across the world. Students take part in discussions, workshops and events all geared towards enhancing their personal development, encouraging responsible leadership and equipping them with the knowledge they need to further themselves, their ideas and their research.