John Finnis to deliver 2014 Coxford Lecture on the Charter
John Finnis to deliver 2014 Coxford Lecture on the Charter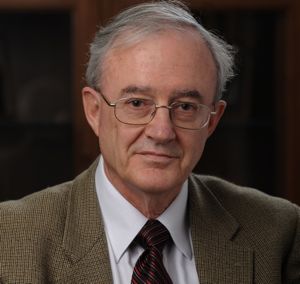 The renowned legal philosopher and constitutional scholar John Finnis will deliver the 6th annual Coxford Lecture at Western Law on April 8.
Professor Finnis will speak on "Patriation and Patrimony: The path to the Charter" at 5:30 p.m. in the Faculty of Law's Moot Court Room.
"Although Professor Finnis is best known as a legal philosopher, his contribution to constitutional law in the Commonwealth has been substantial," says Western Law professor Bradley Miller.
Finnis played a key role as the constitutional advisor to the Foreign Affairs Committee of the UK Parliament in 1981-82, when it was deliberating over the proper exercise of its power of constitutional amendment in the Canadian constitutional order. 
"The clash between the Foreign Affairs Committee and the Trudeau government is an unjustly neglected piece of Canadian constitutional history and we're delighted to host Professor Finnis to explore that story and the constitutional principles behind it," says Miller.
Professor Finnis held the positions of lecturer, reader and a chaired professor in law at the University of Oxford for over four decades until 2010.  He is currently Professor Emeritus at Oxford, and since 1995 has held the Biolchini Family Professor of Law at Notre Dame University.
Professor Finnis is considered one of the most original, important, and influential legal scholars of the past century, as attested by Oxford University Press's decision to publish five volumes of his collected essays in 2011.  A second edition of his masterwork, Natural Law and Natural Rights, was published by OUP at the same time.
Professor Finnis earned his LL.B. from Adelaide University (Australia) in 1961 and his doctorate from Oxford University as a Rhodes Scholar in 1965, supervised by H.L.A. Hart.  He is a Fellow of the British Academy.  As a member of the English Bar (Gray's Inn) he has argued appeals in the Divisional Court and the Court of Appeal.
The Coxford Lecture is Western's leading public law lecture and each year the series brings international scholars to Western Law to address important public law questions in order to promote and advance the rule of law.
Previous speakers in the Coxford series include Professor Larry Alexander (University of San Diego), Professor Jeremy Waldron (NYU/Oxford), Professor Jeffrey Goldsworthy (Monash University), the Hon. Justice Ian Binnie, and Oxford Law Dean Timothy Endicott.
The Coxford Lecture is generously supported by Stephen Coxford '77, former Chair of Western's Board of Governors.
The Coxford lectures are published annually in the Canadian Journal of Law and Jurisprudence.