January Term brings new perspectives to classroom
January Term brings new perspectives to classroom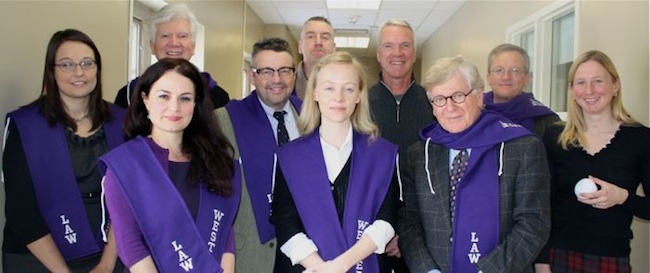 Our Visiting January Term Faculty: l-r back row: Lorian Hardcastle, Ray Werbicki, William Lucy, Dean Iain Scott, David Grinlinton, Assoc. Dean Erika Chamberlain, front row: Michala Meiselles, Iain Benson, Lisa Kerr, Ron Atkey
Absent from photo: Breen Creighton, Brian Graves, Jay Hoffman, Wendi Locke
High profile practising lawyers and visiting scholars from law schools around the world will join Western Law for the month of January to teach a broad variety of intensive courses.
"The January Term provides a unique opportunity for our students and faculty to engage with leading scholars in a wide range of legal disciplines," says Associate Dean Erika Chamberlain.
Course offerings this year include: National Security Law; International/Comparative Labour Law; Comparative Mining & Energy Law; Sentencing/Penal Law, Securities Law - Concepts & Practice; Philosophy of Private Law: Why? What? How?; International Business Law, Healthcare Law & Policy; International Commercial Arbitration, and The Canadian Charter of Rights and Freedoms in Comparative Perspective.
"We truly value the diverse perspectives and experiences that our January visitors contribute," adds Chamberlain. "It's a real highlight of our academic year."
The 2014 January Term visiting Faculty are: Ron Atkey QC, Former Chairman of the Security Intelligence Review Committee; Breen Creighton, RMIT University, Australia (Hicks Morley Professor in International/Comparative Labour Law); David Grinlinton, University of Auckland Faculty of Law (Stephen Dattels January Term Fellow in Mining Law and Finance); Brian Graves (McCarthy, Tétrault); Lorian Hardcastle, University of Toronto Faculty of Law; Jay Hoffman (Miller Thomson); Lisa Kerr, PhD Candidate New York University; Wendi Locke (McCarthy Tétrault); William Lucy, Durham Law School (John Turner Fellow in Public Law); Michala Meiselles, Université Jean Moulin; Iain Benson, Global Centre for Pluralism and Ray Werbicki, Steptoe & Johnson LLP.