Francis argues for Canada/U.S. economic union at CUSLI Lecture
Francis argues for Canada/U.S. economic union at CUSLI Lecture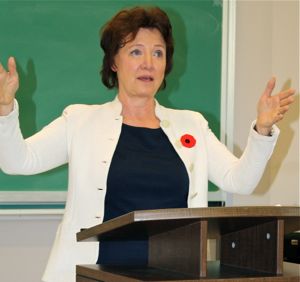 What if Canada and the United States merged into one country? That was the "thought experiment" put forward by award-winning journalist Diane Francis at the 8th annual CUSLI Distinguished Lecture.
Francis explored this intriguing and provocative topic before a full house at Western Law on November 10.
In her lecture "Merger of the Century: Why Canada and America should become one country" (which is also the title of her latest book), Francis argued that a union between the two nations not only makes good economic sense, but that it's inevitable.
Francis laid out a compelling business case for a union saying it would be the best option for the two countries to survive the new economic reality.
"In order for Canada and the United States to keep their standard of living and maintain national security, a merger between Canada and the United States has to be considered," she says.
She argues that Canada can neither defend itself nor amass the capitol to develop its natural resources because "Canada has a balkanized economy, we don't have a big national market."
Francis proposes that Canada create a Canadian equivalent of the U.S. Interstate Commerce Commission to unify Canada's fragmented market.
But combined with the U.S., she says, the two countries would be the "superpower of superpowers".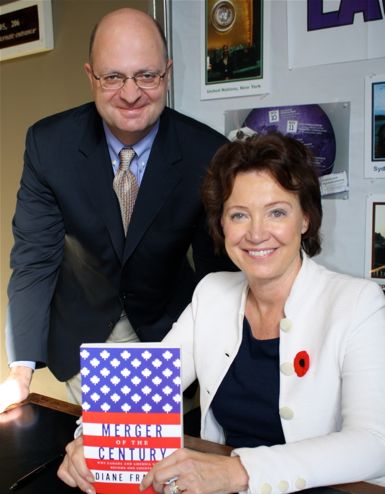 But how would nation-defining American exceptionalism and "life, liberty and pursuit of happiness" dovetail with the more modest, polite Canadian formula of "peace, order and good government"?
Quite easily, according to Francis, who says the two countries have gone "from being cousins to being siblings."  We are in synch on many issues, she says; from the need to protect the environment to gay marriage, Canadians and Americans are becoming more and more alike.
Born in Chicago, Francis immigrated to Canada in 1969 and maintains dual citizenship.  She calls herself "a bicultural person" and "an immigrant who doesn't really belong anywhere" and uses that outsider vantage point to provide keen, and sometimes cutting, observations and to "challenge the narratives of both nations".
Francis is Editor-at-Large with the Financial Post and the author of ten books. She is currently a Distinguished Professor at Ryerson University's Ted Rogers School of Management.
"The question of a Canada/U.S. merger always lingers and has tantalized the Canadian imagination from time to time," said Professor Chi Carmody, Canadian Director of the Canada-United States Law Institute (pictured above with Diane Francis). "Diane took that issue to the foreground in an exciting and thought provoking way. She was a fitting speaker for CUSLI and we were honoured to host her at Western Law."
The Canada-U.S. Law Institute (CUSLI) was formed in 1976 and is a joint creation of Western Law and the Case Western Reserve University School of Law in Cleveland, Ohio. Its goal is to promote the discussion and debate of legal issues relevant in the Canada-U.S. context.
Francis brushed aside concerns of those who would express reserve or scepticism of a North American union. "We're dating heavily," she said. "Let's get married."