Finnis recounts path to the Charter at Coxford lecture
Finnis recounts path to the Charter at Coxford lecture
April 10, 2014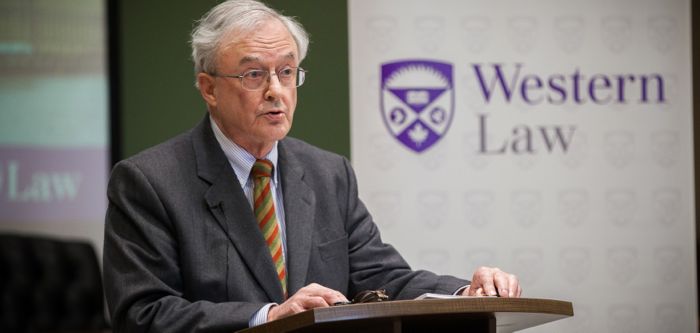 Influential constitutional scholar Professor John Finnis provided an insider's account of the role played by the UK Parliament in the 1982 patriation of the Canadian Constitution at the annual Coxford Lecture held April 8. 
As the legal advisor to the Foreign Affairs Committee, Finnis had been tasked in 1980-81 with assessing the constitutional responsibilities of the UK Parliament to the Canadian federation.  Was the UK Parliament bound by convention simply to accede to Prime Minister Trudeau's unilateral demand for a constitutional amendment that would diminish the powers of the provinces?  If not, what level of provincial consent would be required?  If the impasse between Trudeau and the provinces continued, could the UK Parliament impose a solution over the objections of the federal government?  
Finnis' lecture 'Patriation and Patrimony: the path to the Charter' explored this little-known aspect of the Canadian constitutional story. His detailed lecture drew on reports Finnis authored for the Kershaw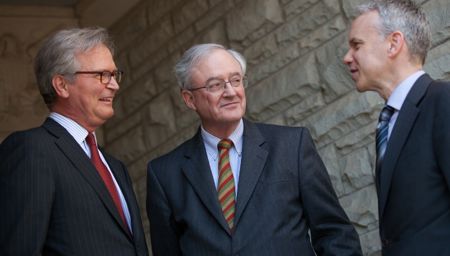 Committee, the response of the Canadian Department of Justice and Trudeau, newly-declassified material from the archives of former Prime Minister Margaret Thatcher, as well as Finnis' own reflections on the nature of political authority and responsibility.
Finnis (pictured centre with Steve Coxford and Prof. Bradley Miller) held the positions of lecturer, reader and chaired professor in law at the University of Oxford for over four decades until 2010.  He is currently Professor Emeritus at Oxford, and since 1995 has held the Biolchini Family Professor of Law at Notre Dame University.
The Coxford Lecture, Western's leading public law lecture series, is generously supported by Stephen Coxford '77, former Chair of Western's Board of Governors.