Distinguished alumni honoured
Distinguished alumni honoured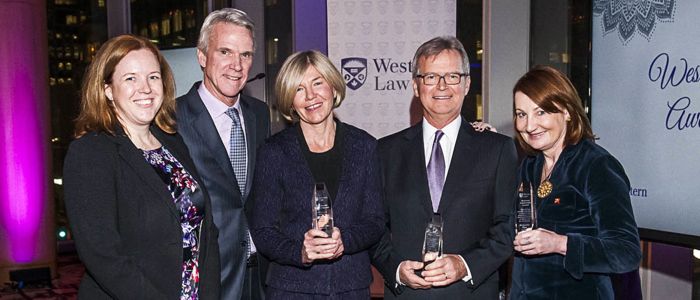 It was an evening celebrating three of Western Law's best. The 2014 Alumni Awards of Distinction held November 19 in Toronto honoured Kim Beatty, LLB'83, Stephen Coxford, LLB'77, and Jacqueline Moss, LLB'88. 
Awards were presented for outstanding achievement in community service, leadership and mentoring, and business acumen.
"Their passion and accomplishments are inspiring," said Dean Iain Scott. "Our distinguished award winners make us all proud".
Christine Tabbert '98, President of the Western Law Alumni Association presented the awards.
Kim Beatty, Founder and Executive Director of The Children's Book Bank, was the recipient of the Community Service Award.
The Book Bank is a not-for-profit organization providing free books to children in Toronto's low-income neighbourhoods.
Beatty, who practiced litigation law in the Toronto area for twenty years, threw her passion, talent and time into the establishment of the Children's Book Bank when she retired.
Since its doors opened in 2008, the book bank has given away more than 400,000 books, increased levels of literacy, inspired the love of reading and made a difference in the lives of countless children and their families.
"The book bank could not be what it is without my legal education," said Beatty.  "Tenacity, problem solving and advocacy are all skills I learned at Western Law and are the skills needed to run a successful charity."
Jacqueline Moss was presented with the 2014 Business Leadership Award.
Moss has had an impressive rise at CIBC where she is currently Executive Vice-President, Strategy and Corporate Development, responsible for developing CIBC's bank-wide corporate strategy.
In 2007 and 2008, the Women's Executive Network recognized Moss as one of Canada's Most Powerful Women.  As well, she has been instrumental in the formation of ReConnect, a first of its kind program at the Ivey School of Business that helps professional women re-enter their careers after an extended absence.
Moss also serves on Western's Board of Governors and is a member of the Campaign Cabinet as Chair of Fund Raising and Donor Relations Committee.
"I'm very honoured," said Moss accepting her award "and so happy some of my classmates and colleagues from my legal journey are here with me this evening."
Stephen Coxford LLB'77 was honoured with the Ivan Rand Alumni Award that recognizes superior contributions to both the Law School and the alumni community.
Coxford is the President of Gresham & St. Andrew Inc., a Toronto-based investment company and has served on the boards of a variety of private and public corporations, most recently as the Vice-Chair of TV Ontario. 
"Stephen is a great friend to Western Law and to the University," said Tabbert.  "He provided tremendous leadership during his term as Chair of Western's Board of Governors and is a member of our Dean's Circle, a distinguished group of supporters of Western Law."
Thanksto his generous gift, the Faculty of Law established the annual Coxford lecture in 2008.  This pre-eminent lecture series brings top international scholars to Western Law to address important public law questions in order to promote and advance the rule of law.
"Western Law is a very different place then when I attended 40 years ago," said Coxford. "Today it's a launching pad for a wide array of careers and endeavors.  Current students and recent graduates are alive to these tremendous opportunities."
He encouraged alumni to give back to their alma mater. "None of this is achievable without continuing access to resources," he said.
Michael Capatides, Senior Executive Vice-President at CIBC extended his congratulations to the award winners.
"They are very deserving recipients and their commitment to the law school, the community and the business world brings pride and honour to Western Law," he said.
Western Law would like to thank the event's presenting sponsor CIBC, platinum sponsor Blakes LLP, and ZSA Legal Recruitment, represented by Warren Bongard LLB'91, for their generous support of the 2014 Alumni Awards of Distinction.