Dean Scott welcomes Class of 2017
Dean Scott welcomes Class of 2017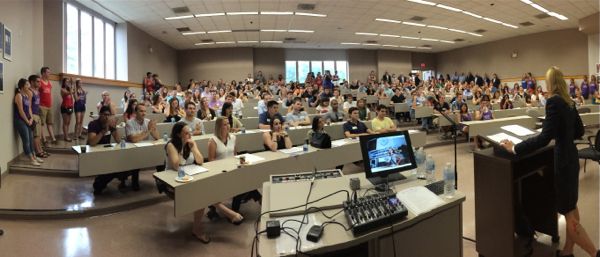 Dean Iain Scott welcomed the Class of 2017 to their official first day at Western Law and encouraged them to make the most of their law school journey.
"You've been admitted to a great law school with a tradition of excellence and success," he said.  "You've worked hard to get here. But, with that opportunity, comes a responsibility – and that is to take ownership at this stage of your career, of your legal education and training."
From community clinic opportunities, mooting competitions, student government, exchange and internship programs, Dean Scott told the students that a legal education is as diverse as you want to make it.
He told the new students that their legal education will open doors to a wide-range of careers, not just the traditional practice of law.
"The critical analysis, the reasoning, the drive and, the professional and social responsibility that you will develop here will also make you equally well-suited to careers in business, the not-for-profit sector, government and academia," said Scott. "One thing that we can now say with certainty is that the practice of law is no longer traditional."
Erika Chamberlain, Western Law's Associate Dean told the new students their class was a varied and impressive one.
"Among the incoming class are business entrepreneurs, photographers, an equestrian, chartered accountants, Canadian Forces members, a Mt Everest climber, music teachers, painters, competitive dancers, published authors and five Starbucks baristas," she said.
 "We know that this is a really exciting day for you – whatever happens over the next three years, there is no doubt that law school will change your life," said Chamberlain.