Course gives students first-hand view of International Organizations
Course gives students first-hand view of International Organizations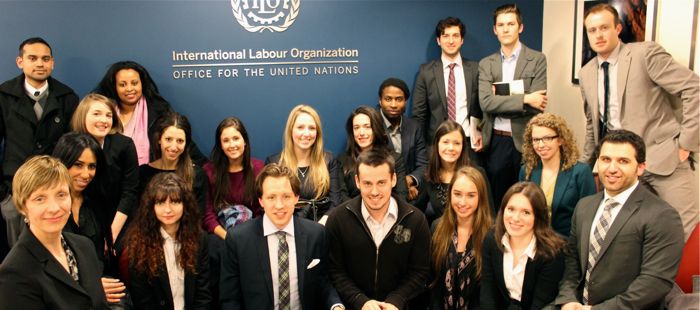 For 20 upper-year students, a recent trip to New York was really a trip around the world. 
The students, along with their professor, Valerie Oosterveld, visited New York to gain a close-up view of various international organizations as part of a Western Law intensive January Term course.
The course provides an introduction to the law and work of international organizations (IOs). It examined the origins of IOs, their legal capacity and status, various methods of dispute settlement and the future of IOs.
This is the fifth year the course has been offered.
Students were briefed by legal experts at the United Nations Office of Legal Affairs, the International Labour Organization, the World Bank Group, UNICEF, the UN Peacebuilding Commission, the International Committee of the Red Cross and Human Rights Watch.
"The field trip to New York provided our students with valuable opportunities to meet and hear from representatives of well-known international organizations. For example, the Special Representative of the World Bank to the United Nations, Dominique Bichara, explained the close relationship between the World Bank Group and the United Nations in terms of their joint efforts to eliminate poverty," said Oosterveld.
In addition, the students met with a senior legal diplomat at the Permanent Mission of Canada to the United Nations in New York (to understand how Canada interacts with New York-based international organizations) and the Ombudsperson to the United Nations Security Council's Al-Qaeda Sanctions Committee, Canadian Kimberly Prost.
"I was able to ask questions and speak with many high ranking officials," said Michael Landell, one of the students on the trip. "This really gave me a greater perspective on the type of work being done at international organizations and outside the sphere of traditional legal work."
The remainder of the course took place back at the law school, where students made a variety of in-class presentations including how the UN has responded to claims of responsibility for the Haiti cholera epidemic following the devastating 2010 earthquake, and on the World Bank's efforts to meet the Millennium Development Goals.
"It is one thing to learn about international organizations in a classroom; it is quite another to take that classroom directly into the international organizations. I believe that all of our students obtained a deeper learning experience as a result," Oosterveld added.