Class of 2014 urged to be bold, explore opportunities
Class of 2014 urged to be bold, explore opportunities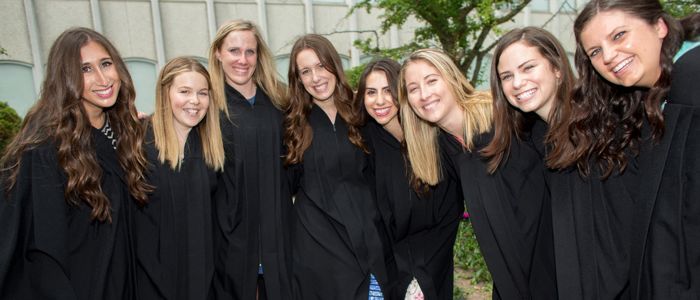 Family, friends, faculty and staff gathered to celebrate the class of 2014 at the Western Law awards ceremony held at Althouse College on June 18.
Dean Iain Scott welcomed the assembled guests and told graduates that with their achievement comes responsibility.
"You've been blessed with a healthy mix of smarts and of course an excellent education; now you must put it to good use," he said. "You have a responsibility to use your talents and energy as global citizens for the good of all of society.  That is the message I ask you to embrace."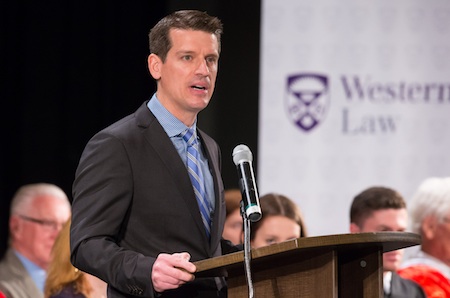 Guest speaker Michael Copeland 'LLB '93, MBA '99, President and Chief Operating Officer of the Canadian Football League, (pictured left) told the newly-minted grads to be bold and confident, and take advantage of every opportunity.
 "Some of your greatest achievements will come after a significant period of uncertainty and perseverance," he said. "Have confidence in yourself and test your potential.
"Your career can be like walking through a long, muddy field in rubber boots.  You'll get to the other side, but the boots are going to come off now and again," he said.
Copeland spoke about his own untraditional career path, leaving a promising Bay Street career at 28 to earn an MBA, backpacking through Asia, living abroad and working as a business consultant and then at a major beer company, before joining the CFL in 2006.
He encouraged graduates to explore different paths, to try new things and to make mistakes.
"So take your time…. it's a much longer runway than you are able to perceive right now. Allow it to develop. Allow yourself to stumble. It's okay. You'll still get there.    
"Working for a law firm is a great option, but by no means the only one. There's a world of opportunity in front of you. Don't be afraid to explore it in your own way.  Your degree gives you that flexibility," he said.
George Tory, the Class of 2014 Valedictorian, (pictured below) praised his fellow students for their involvement in the community.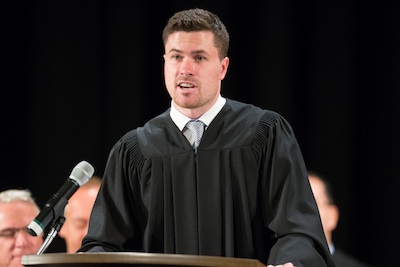 "Whether it was the Community Legal Services Clinic, student government or charitable activities in London, I observed so much passion for so many different causes," he noted.  
He told his classmates it was important to use the knowledge and many talents they developed at Western Law to contribute to the betterment of the communities where they end up.
"Our strength as a law school is in the diversity of our class's skills and we have the potential to make incredible differences in so many different areas," he said.  "My hope is that our class maintains the passion for community that I witnessed throughout the last 3 years."
Tory also thanked the families who supported the students along the way.  "I don't just mean over the past 3 years, but over the course of our lifetimes. You put us on a track to succeed and are most responsible for the people we have become," he said.
Special guests in attendance at the morning ceremony included Dr. Kevin Flynn, representing the Flynn family in memory of Ailbe C. Flynn, Class of '97; Bryce Jeffrey, representing Lara Leitch (Colin D. Leitch Award); and Casey Dockendorff, Associate, Filion Wakely Thorup Angeletti, representing his firm's award in Labour & Employment.