Alumna honoured with Community Service Award
Alumna honoured with Community Service Award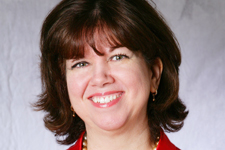 Living with deafness did not stop Alumna Lorin MacDonald, JD'09 from pursuing her dream of studying law at Western. Today, she is using those skills to lead the way for greater accessibility for all in Ontario and nationally, and is the recipient of a 2014 Alumni Award of Merit for Community Service.
MacDonald's achievements fostering positive change in Ontario's accessibility began even before law school.
"In the summer before I started at Western Law, I was involved in organizing a cross-disability forum at King's University College aimed at encouraging the provincial government to enact stronger disability legislation," MacDonald recalls. "Attended by the Minister in charge of the disability portfolio, my soon-to-be law school professors spoke along with many others, all advocating for the use of regulatory standards to effect change.
Six weeks after the forum, the Minister introduced the Accessibility for Ontarians with Disabilities Act (AODA), and all three parties unanimously passed it.  What a tremendous way to see the law in action while attending law school!"
The AODA has far-reaching implications province-wide and is a model around the world.
Attending Western came with significant personal sacrifice for MacDonald. Through it all, she worked to increase accessibility on campus and, thanks to MacDonald's efforts, captioning is now available at Western for any student who requires this accommodation.
After graduating from Western, MacDonald became the first articling student (or lawyer) with a hearing loss to request accommodation in the Hamilton court system.
Since then, she has succeeded in making other tribunals and courts in Ontario similarly accessible, making her a role model for other articling students and new lawyers with disabilities. MacDonald is a frequent presenter and author on the rights of Ontarians with disabilities and the benefits of an accessible society. As a result, Western, the City of London, and the province have recognized her for her contributions.