With her father as an inspiration, a law student pursues her dream
With her father as an inspiration, a law student pursues her dream
November 06, 2013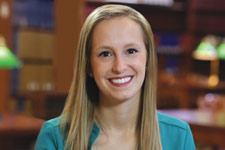 As a young girl in small-town Ontario, Alana Vandervoort (pictured left) held an unusual aspiration. She dreamed of becoming a lawyer.
Why unusual? No one from Vandervoort's family practised law and she knew no lawyers. In fact, she met a lawyer for the first time when she was 17 years old.
"I guess I'm fortunate that I've known where my career path would lead me," says Vandervoort, now a second-year Western Law student and the inaugural recipient of the Norman Craig Brown QC Continuing Bursary. "That's helped me remain focused on my goal of working in the legal profession."
Her focus led her to make Western the number one choice for law school. "Western Law has a community feel with a great school spirit, which is perfect for me," she says.
Granted to a full-time student entering first year at Western Law, the Norman Craig Brown QC Continuing Bursary will continue for subsequent years as long as the student progresses and demonstrates financial need. Established by family and colleagues of Norman Craig Brown, QC, the award honours and recognizes his career in law and commitment to the legal profession.
With her first year completed, Vandervoort says the collaborative learning environment at Western Law is second to none. "Every professor challenges me and makes me want to learn," she says. "And as students, we look out for each other, even though we have diverse interests. There's such a collegial and encouraging atmosphere."
Vandervoort credits her father as a huge encouragement in pursuing her dream. He's a hard-working blue-collar man, she says, who highly values education. He beamed with pride when she graduated with her bachelor's degree.
"My Dad has instilled an incredible work ethic in me and has given me a sense of accomplishment," she adds. "Living these values is what got me to where I am today."
That hard work and dedication to becoming a lawyer makes her receipt of a student award a tremendous gift. "I'm grateful for the donors who are so supportive and encouraging through their generosity. Receiving this award has allowed me to be fully involved in law school and seize every opportunity," she says.
"The money the donors have given for this student award goes beyond just a donation. It's an aid and tool to my success," she says.
 View video on how a gift to Western can make an impact