Western Law congratulates Robert Shiller on receiving the 2013 Nobel Prize in Economics
Western Law congratulates Robert Shiller on receiving the 2013 Nobel Prize in Economics
October 15, 2013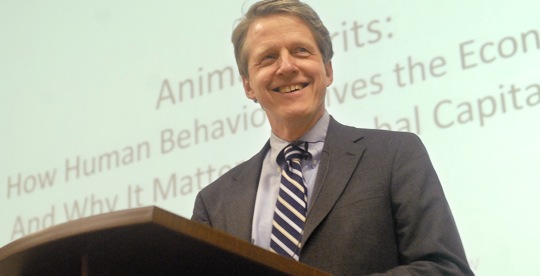 Robert Shiller, one of Western Law's first Beattie Family Business and Law Speakers, was named the co-winner of the 2013 Nobel Prize in Economics on October 14.  Officially known as the "Sveriges Riksbank Prize in Economic Sciences in Memory of Alfred Nobel", the Yale University Professor was awarded the prize along with Eugene Fama and Lars Peter Hansen from the University of Chicago.
"Robert Shiller was the inaugural speaker in our Beattie Family Business and Law Lecture series," noted series organizer Professor Christopher Nicholls. "He was the ideal person to launch the series in 2009 not only because his work on financial market bubbles and behavioural finance has proven so prescient, but also because in 2003 he had invoked the work of legal philosopher John Rawls to anchor his discussion of how financial innovation might be used to address global issues of income inequality."
Nicholls correctly predicted that Shiller would win the year's Nobel Prize in economics in a "Guess the Nobel Prize" competition run by the Lund University School of Economics and Management in Sweden.
Shiller's lecture at Western Law can be viewed here.
Shiller is one of three Nobel Prize winning economists to visit Western Law in the past several years. Previous laureates George Akerlof and Myron Scholes have also visited the school to share their insights with Western Law JD and graduate law students.