New students welcomed to Western Law
New students welcomed to Western Law
September 03, 2013
Message from Dean W. Iain Scott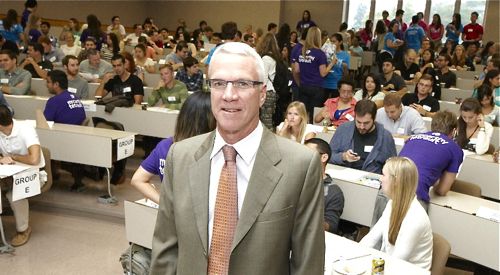 Welcome to Western Law, your home for the next three years.
As some of you will know, I was in private practice for some 30 years before being appointed Dean in 2011.  Fortunately for you, there are many people here with lots of law school and academic experience – many of whom are in this room today – who will help you find your way over the next three years. 
You are no doubt experiencing a range of emotions – but I promise you the experience you gain here will stand you in good stead wherever your careers may take you.  
You are embarking on a professional career that, despite the lawyer jokes (of which you will hear many) is valued and respected and adaptable.  I encourage you to look at the Alumni magazine we will publish in October for a description of the success of our graduates, some of whom only practiced law for a short time.
Yes, world events are troubling at times, coupled with economic uncertainty But the challenges you will face simply put – are opportunities for you to learn how to make a contribution – how to make a difference.
You have been admitted to a great law school with a tradition of excellence and success.  You have worked hard to get here. With that opportunity, comes a responsibility. and that is to take ownership - at this stage of your career - of your legal education and training.
Most if not all law school graduates will come away with black letter knowledge of the law.  In this day and age though – you need to bring something else to the table.  In my parlance, knowing the law is simply table stakes.   Being smart is good but it's no longer good enough – a lot of very smart people get lost in the woods! 
Western Law, if you invest in it, will allow you to leave here with a lot more.  Whether it be by your participation in our many community clinic opportunities, mooting competitions, student government, exchange and internship programmes, specialized studies, even talent night ..., your legal education can be as diverse and in depth as you want. 
In a world of change, those who have the analytical abilities to respond and adapt are those who will do well and contribute to effecting positive change.  We want and will demand a lot from you.  We expect you to challenge each other, to challenge us and, most importantly, to challenge yourself.  The critical analysis, the reasoning, the drive and, most importantly, the professional and social responsibility that you will develop here will also make you equally well-suited to careers in business, the not-for-profit sector, government and academia, as well as the traditional practice of law.  In fact, the one thing that we can now say with certainty is that the practice of law is no longer traditional.
You will also make lifelong friends here over the next three years – among your classmates and the rest of the Law School community. 
You and of course your friends and families have worked hard to get you here.  Make the most of it, and enjoy the journey.  It will be worth it.  Good luck.  Thank you.
Message from Assoc. Dean Erika Chamberlain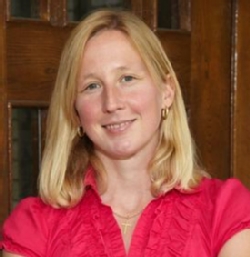 For some of you, law school has been a dream since childhood (at least that's what you said on your personal statements). For others, law school was a chance to expand your options or put off entering the job market for a few years, or you just weren't good enough at math to write the GMAT. However you got here, we are very proud that you chose Western for your legal education. We know that this is a really exciting day for you – whatever happens over the next three years, there is no doubt that law school will change your life.
You've probably already heard that law school will help you to "think like a lawyer." And this is true. For example, you will never be able to watch a courtroom drama with your friends again without explaining that the show has the hearsay rule all wrong. You will finally be able to understand the changes to Facebook's privacy policy (well maybe not). And you may even start to think of your significant other not as the love of your life, but as a huge potential creditor if the relationship breaks down.
But in a more positive way, your legal studies will teach you that there are at least two sides to every story, and will give you the ability to empathize with a broad range of people. They will teach you that, in some way, lawyers facilitate all kinds of relationships and transactions in society, from families to business, employment and health, compensation, government and inheritance. And your legal studies will teach you the importance of our constitutional principles, and make you appreciate that even unpopular people and unpopular causes deserve a competent advocate.
So yes, there is no question that law school will change you and the way you think and operate in society.But we also hope that you, the Class of 2016, will change the law school.

You are a very impressive group. You come from seven provinces, representing 42 undergraduate disciplines with one of five of you holding a graduate degree. Among the class there is a total of 29 languages spoken, and one-third of you speaks a second (or third) language.
Among your backgrounds are: business entrepreneurs, photographers, a Canadian Forces officer, primary and infantry reservists, chefs trained at Le Cordon Bleu, a painter, a competitive dancer, a dog sledder and actors.
You are accomplished musicians, Varsity athletes, and we have three National competitors or champions in Cross Country Skiing, Taekwondo, and synchronized figure skating.
You have also volunteered your time with community development projects overseas and with non-profit organizations, spiritual organizations, and at universities in a wide variety of areas.
So you are an incredibly talented and diverse group of people, and we are proud to have you here at Western Law. While you are here, we know that you will make significant contributions. You will perform important research, you will volunteer at Community Legal Services and our other clinical programs, you will serve on the Student Legal Society or as members of other clubs, you will represent Western at advocacy competitions, conferences and sporting events, and you will show the community that Western Law students are not only talented, but also compassionate, generous, ethical, and principled. When you graduate, you will work in large Bay Street firms or in smaller town practices, in government, in business, at international organizations, the non-profit sector, legal clinics, as academics, or as judicial clerks at the Court of Appeal or Supreme Court of Canada.
The next three years at Western Law will certainly change your life. And Western Law will be changed because of you.