Visiting Professorship honours outstanding career of Richard McLaren
Visiting Professorship honours outstanding career of Richard McLaren
October 09, 2013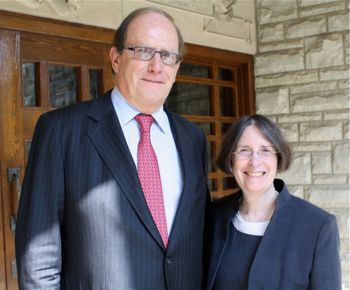 Richard McLaren has been an inspirational teacher and mentor to hundreds of Western Law students. Over the course of his 30-year career at Western Law, his expertise in the areas of commercial, bankruptcy and sports law has resulted in publications that are regarded as leading scholarly works in their fields. McLaren (pictured left with Roberta Romano) has also established an international reputation as a dispute resolution arbitrator and author.
To honour his outstanding achievements and contributions to legal education, Western Law established the Richard H. McLaren Visiting Professorship in Business Law in 2011. The professorship was made possible thanks to the generosity of Davies Ward Phillips & Vineberg LLP, the lead donor, significant contributions from Goodmans LLP and the Kavelman-Fonn Foundation, as well as numerous Western Law alumni and friends.
The McLaren Visiting Professorship enables the Faculty of Law to recruit a scholar of international standing in the field of business law to teach an intensive course in the JD program.  
Visiting professors also share their expertise with friends and alumni of Western Law at the Richard H. McLaren Professorship in Business Law Lecture.
"Having such top academics teach in Richard's honour is an appropriate recognition of his tremendous contribution to business law education," says Prof. Christopher Nicholls.
This year's distinguished visiting professor was Professor Roberta Romano. Romano hails from Yale University where she is Sterling Professor of Law and serves as the Director of the Yale Law School Center for the Study of Corporate Law.  In the fall 2013 term, Romano taught an intensive upper-year JD course at Western Law entitled "Applied Corporate Finance: Law and Finance of Debt Instruments".
On October 3 Professor Romano delivered the Richard H. McLaren Professorship in Business Law Lecture at an event sponsored by Davies Ward Phillips & Vineberg LLP at their Toronto office. The topic of her lecture was "Getting Incentives Right: Is Deferred Bank Executive Compensation Sufficient?"
Shawn McReynolds, Managing Partner of Davies Ward Phillips & Vineberg LLP, welcomed the guests on behalf of the firm.
"Davies is very proud of the relationship we have with Richard McLaren. We're pleased to host this event and to have contributed to the visiting professorship in Rich's name."
Guests at the lecture included Western Law alumni from Davies Ward Phillips & Vineberg LLP, Goodmans, and Wildeboer Dellelce LLP, Richard and Shelagh McLaren, as well as other alumni and friends of Western Law.
Christopher Nicholls extended thanks, on behalf of the law school and Western University, to all of the donors who had made the prestigious McLaren Professorship possible, and touched on a few highlights of Richard McLaren's remarkable and influential career as a lawyer, educator, scholar, arbitrator and internationally renowned expert in sports law. He then emphasized the positive impact of the McLaren Professorship in Business Law.
"The generous support of our donors enables us to bring world class academics to the Faculty of Law to help build our noted strength in business law and nurture the next generation of leaders," said Nicholls.
Richard McLaren added his thanks to Professor Romano for her engaging, insightful and thought-provoking lecture as well as to the many alumni, friends and supporters of the visiting professorship.
"The public lecture at Davies was an outstanding presentation on the intricacies of the shoring up of the international banking system after the 2007/08 financial crisis. My thanks to Professor Romano and to the many donors who have made this professorship possible," McLaren noted.
Later reflecting on her experience at Western Law, Professor Romano said, "I was honored to visit Western Law as the Richard H. McLaren Professor in Business Law, and was delighted to be invited to speak in Toronto to alumni and friends of Western Law at the Davies Ward Phillips and Vineberg firm." She went on to note, "It was also a pleasure to teach an intensive course; the students are first rate."
 "The Richard H. McLaren Visiting Professorship in Business Law is a fitting tribute to a man who is so highly respected in his field," added Nicholls. "Rich is an educator who sparks immense dedication to the practice of law in his students."