Torys LLP speaker series hosts top business law scholars
Torys LLP speaker series hosts top business law scholars
September 11, 2013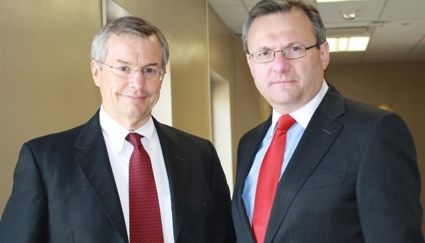 Since 2007 Western Law has hosted some of the world's most outstanding business law academics as part of the Torys LLP Business and Law Pre-eminent Scholars Series. This year's series kicked off on September 6 with a timely talk by Professor Howell Jackson of Harvard University (pictured left with Prof. Christopher Nicholls).
Jackson, the James S. Reid, Jr. Professor of Law at Harvard Law School, spoke on "Public Enforcement: An Update of Literature on Resource-Based Evidence". The talk explored the relationship between public enforcement and the development of robust capital markets.
Other confirmed speakers in the series this year include: Gary Gorton (Frederick Frank Class of 1954 Professor of Management and Finance, Yale School of Management), Reinier Kraakman (Ezra Ripley Thayer Professor of Law, Harvard University), and George Priest (Edward J. Phelps Professor of Law and Economics and Kauffman Distinguished Research Scholar in Law, Economics, and Entrepreneurship, Yale Law School)
"This series provides Western Law students the opportunity to engage with some of the world's leading business and legal scholars and hear their perspectives on the most interesting and influential ideas in business law," says series organizer Professor Christopher Nicholls.
"It's one of the finest visitors series of its kind anywhere in the world, and we're grateful to Torys LLP for their ongoing support," Nicholls says. 
The Torys LLP Business and Law Pre-eminent Scholars Series is part of the Torys LLP Corporate and Securities Law Forum at Western Law.