The Chaitons LLP and FYAC student Moot Competitions
The Chaitons LLP and FYAC student Moot Competitions
March 19, 2013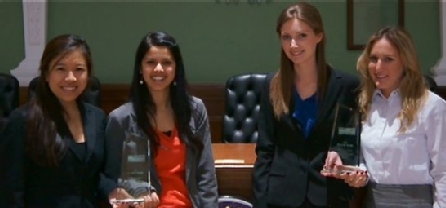 Students mooted the decision in Newfoundland and Labrador v Abitibi, 2012 SCC 67 at the second annual Chaitons LLP Corporate Restructuring Advocacy Competition held on March 6.
The best appellant team was Samantha Tom and Teanna Lobo and best respondent team was Anna Tombs and Casey Marvin. Honourable mention goes to the other finalist teams of Lauren Dalton and Michael Landell, and Blake Jones and Shawn Cymbalisty. 
Congratulations to all the finalists for surviving what the Honourable Justice Farley referred to as "the lion's den".  These mooters stood their ground while being peppered with questions from of a five-member panel consisting of the most eminent commercial jurists in Canada.
"Many thanks to Chaitons LLP for their ongoing support of this competition." said Professor Telfer.
The 2013 First Year Appellate Competition (FYAC) was held on March 14 with Kimberly Asnani emerging the winner against finalists Mark Bout, Lindsey Hornland and Evan Stitt.
Honourable mentions went to Francis Bourikas, Regan Christensen, Arielle Kieran, Samantha Tom, and Zohar Weinbrand.
The competition required students to address the Nova Scotia Court of Appeal's 2010 judgment in R. v. Hutchinson, a case involving a man who punched holes in a condom to try to get his girlfriend pregnant. The complainant, who had made it clear she did not wish to get pregnant, had an abortion and laid sexual assault charges.
The issues on appeal revolved around complicated questions on the meaning of consent and the situations in which fraud vitiates an otherwise valid consent.
This year 58 first-year students participated in the competition with the top 4 argueing in the final round before Dara Lambe, a partner from Lerners LLP and Professors Andrew Botterell and Chris Sherrin. The competition faculty advisor was Prof. Mohamed Khimji.
Western Law would like to thank Lerners LLP who sponsored the competition and hosted a dinner at Windermere Manor.  Thanks go also to the Western Advocacy Club and the upper-year student volunteers who acted as judges and clerks.