First place tie in Lenczner Slaght Advocacy Competition
First place tie in Lenczner Slaght Advocacy Competition
February 28, 2013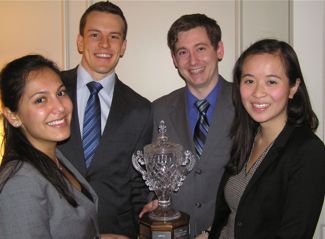 The judges of the final round of the annual Lenczner Slaght Advocacy Competition in Legal Ethics and Professionalism were unable to separate the performances of the two teams, Sharon Au and Aparna Bhushan for the appellant and Jacob Damstra and David Nicol for the respondent.  As a result, the two teams tied as winners of the competition.
The competition was sponsored by Lenczner Slaght Royce Smith Griffin LLP, a Toronto firm that has been consistently recognized as one of Canada's premier litigation practices.  The competition featured 20 first-year students appealing the Saskatchewan Court of Appeal's decision in Wallace v Canadian National Railway, an important case about conflict of interest and the duty of loyalty. 
A significant portion of the advocacy centred on the decision by former Supreme Court of Canada Justice Ian Binnie in R v Neil.  Ian is now a lawyer with Lenczner Slaght and an honorary professor at Western Law.
The competition was organized by Professor Stephen Pitel and Western Law alumnus Matthew Lerner '07, an associate with Lenczner Slaght.  Preliminary rounds were judged by Emily Graham, Jonathan Laxer and Craig Hogg, all of Lenczner Slaght, and Professor Randal Graham.  The Toronto lawyers braved some wintery roads to make it to London in time for the first round.
Sharon and Aparna, students in Group C, advanced to the final against Jacob and David, students in Group E.  The final, held in the Moot Court Room, was judged by Justice Helen Rady of the Ontario Superior Court of Justice, Dean Iain Scott and Eli Lederman, a partner at Lenczner Slaght.  The three judges were adamant that the round was "too close to call" and that a tie was the only fair result.  A reception and dinner for all competitors capped off the day's oral advocacy.    

One additional team was recognized with an honourable mention for its preliminary round performance: Regan Christensen and Chelsea Smith of Group B.  Emilia Hugel, Michelle Bothwell and Matoula Charitsis provided enthusiastic administrative support for this competition.