Students learn from leading public law scholars
Students learn from leading public law scholars
September 23, 2013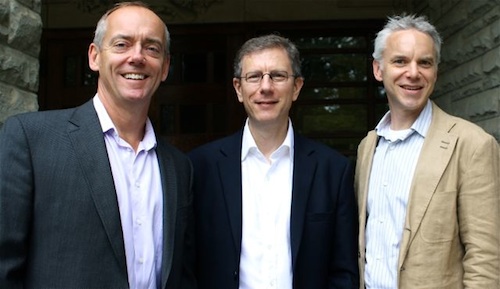 Professor Stephen Gardbaum, the MacArthur Foundation Professor of International Justice and Human Rights at the UCLA School of Law, was the first speaker in this year's Public Law Preeminent Scholars Series at Western Law.
Gardbaum (pictured in centre with Prof. Grant Huscroft and Prof. Bradley Miller) spoke on "The New Commonwealth Model of Constitutionalism" to upper-year students on September 20.
A Guggenheim Fellow in 2011-12 and a Straus Fellow at New York University in 2012-13, Gardbaum is internationally recognized for his work in comparative constitutional law and theory.
The Public Law and Legal Philosophy Research Group also hosted a roundtable discussion of his new book, The New Commonwealth Model of Constitutionalism: Theory and Practice (Cambridge University Press, 2013). Participants included Political Scientists Dennis Baker (Guelph), Emmett Macfarlane (Waterloo), and Western's Cristine deClercy.
Other visitors in the Preeminent Scholars Series this year include James Allan, Garrick Professor of Law, University of Queensland - TC Beirne School of Law; John Keown, Georgetown University School of Law Rose F. Kennedy Professor of Christian Ethics at the Kennedy Institute of Ethics, and Wojciech Sadurski, Challis Professor University of Sydney, Strauss Fellow NYU.
"The scholars series provides a rare opportunity to consider important developments in public law and to meet with leading international scholars," says Professor Grant Huscroft, the series organizer.
Past visiting scholars have included Jeremy Waldron (New York University/Oxford), Lawrence Solum (Georgetown), Jeffrey Goldsworthy (Monash), and Aileen Kavanagh (Oxford University).