Moot focuses on Labour Law
Moot focuses on Labour Law
October 23, 2013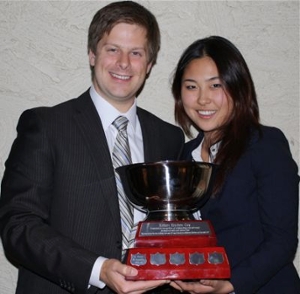 Derrick Dodgson and Jessica He (pictured left) are the winners of the 2013 Kitchen Cup, awarded to the top team in the annual Borden Ladner Gervais/ Cavalluzzo Shilton Labour Law Moot at Western Law.
During the moot, students compete against each other in a preliminary round, representing either unions or management. The moot problem is based on a realistic labour or employment law situation with several legal issues. The best employer-side and employee-side teams are selected to compete in the championship round.
A total of 18 teams competed in the BLG/Cavalluzzo Moot on Tuesday, October 22.
The students argued the merits of the case – Saskatchewan Federation of Labour v. Saskatchewan – on the constitutionality of a recent essential services statute that was adopted by the Saskatchewan legislature. Arguing for the Government, Derrick and Jessica persuaded the Western Court of Appeal – made up of lawyers from BLG and Cavalluzzo – to reject the unions' argument that the statute violated the freedom of association guarantees in the Charter (s. 2(d)) when the legislature withdrew or limited the right to strike by public sector unions.
Also competing in the moot finals were Melissa Ragogna and Tamara Thomas from Windsor Law. This year, three teams from Windsor competed along with 15 Western Law teams. Thomas was presented with the Best Oralist award.
The Supreme Court of Canada announced late last week that it had accepted the leave to appeal application by the Saskatchewan Federation of Labour respecting the June 2013 ruling in this case by the Saskatchewan Court of Appeal that was at the centre of the BLG/Cavalluzzo Moot. The Supreme Court will likely hear this appeal sometime in 2014.