Law employee shows Western the Way
Law employee shows Western the Way
October 17, 2013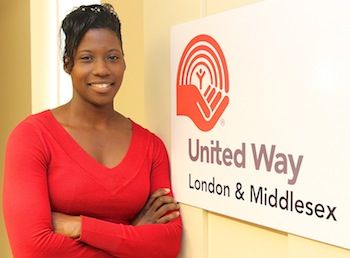 Natalie Samuel, a recruitment coordinator in the Faculty of Law, is this year's United Way sponsored employee for Western University. And she is confident Western will once again achieve its ambitious fundraising goal set at $780,000.
Samuel (pictured left) understands surpassing Western's record-breaking $746,101 donation to United Way of London & Middlesex will be a daunting task. But she's up to the challenge.
"We have to have a positive and optimistic attitude that we are going to meet our goal, and we believe we can do it," said Samuel.
This past year, more than 100 volunteers assisted with and 1,300 students, faculty and staff donated to the campaign.
"Taking into account the economic downturn, loss of businesses, high unemployment, it sounds tough. But it's mind over matter and, in our mind, we will succeed," says Samuel.
This past month, United Way of London & Middlesex announced its largest campaign goal in the organization's history – $8.9 million. The 2013 goal is an increase of $150,000 over last year's goal.
Samuel, just over a month into her four-month position, is already aware of the positive work the United Way does. At the same time, the need remains.
"For me it's about getting into the community and seeing what's really going on – that first-hand knowledge, as opposed to what you simply hear is happening," she said. "Being able to witness it for yourself and understand it from a whole new perspective is tremendous."
Even a recent visit to the London Coffee House, which she has passed countless times without a second thought, was a humbling experience. "I come to find out there were only two volunteers running the entire place, but they kept the flow going, which speaks to the great work they're doing."
Samuel knows the next two months will be an incredible amount of work, but what she's taking away from the experience will continue to pay dividends down the road. 
"It pushes you outside your comfort zone and forces you to address some of the preconceived notions you may have, whether you know it or not. It changes you all around and the people you interact with, you hope you leave some of yourself with them."
So be it financial, or even volunteering your time with an agency, Samuel said it all makes a difference.
"Often people will think in order to make a difference it has to be a huge financial donation, myself included, but I've learned that every little bit counts," she said. "Even if it's volunteering to collect and organize books for children in need or a small donation. It may seem like small things, but they all add up."
This year's campaign activities for Western community members includes prize draws for donors, an online auction and teams from Western will be taking part in the United Way Stair Climb on Nov. 7.
Western faculty, staff and students have a long-standing relationship with the United Way having contributed more than $8 million dollars. Last year, Western's campaign generated the largest workplace contribution to United Way of London Middlesex at just over $746,000 to support real change in our community.
The campaign will conclude on Jan. 22.