Governor General's Gold Medal awarded to graduate law student
Governor General's Gold Medal awarded to graduate law student
October 30, 2013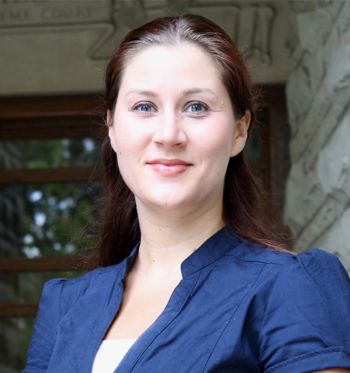 Western Law PhD student Kirsten Stefanik (pictured left) has been awarded the prestigious Governor General's Gold Medal for 2013. The award is in recognition of her outstanding academic performance in the completion of her Master of Laws (LLM) at Western Law. Stefanik is the first Western Law student to be awarded the Governor General's Gold Medal.
"The academic leaders who put forward Kirsten's nomination were struck by her outstanding contributions to the development of new knowledge in Canada and abroad as well as the exceptional personal talents she has displayed in collaborations with colleagues," said Linda Miller, Vice-Provost (Graduate and Postdoctoral Studies).
A rising academic star and recent graduate of the LLM program, Stefanik has broken much new ground at Western. She is the first student at Western Law to complete the new collaborative graduate program in transitional justice and post-conflict reconstruction. 
"Kirsten has produced ambitious and groundbreaking work in the field of international humanitarian law. Her work promotes legal changes that could ameliorate the conditions suffered by victims of war, and pursues this important goal by borrowing from established principles in environmental law," says Randal Graham, Western Law's Director of Graduate Studies.
Western faculty members who nominated Stefanik describe her dissertation as original, innovative and revolutionary, and Stefanik herself as a source of great pride for Western Law.
"I feel fortunate to receive this honour for doing work I am so passionate about, and I'm grateful for the guidance of supportive faculty and peers," Stefanik says. "I owe some of the accolades to my supervisor, Sara Seck, whose guidance and insights really helped make my thesis something I am truly proud of."
Stefanik was presented her medal on behalf of His Excellency the Right Honourable David Johnston, Governor General of Canada, at a ceremony held on October 30 at Western University.
Established in 1873 by Lord Dufferin, the Academic Medals were created to encourage academic excellence across the nation. Over the years, the Gold Medal has become one of the most prestigious awards that graduate scholars in Canada can receive.