Exciting journey awaits Class of 2013
Exciting journey awaits Class of 2013
June 19, 2013
Mistakes and failure can be our most important teachers – as long as you're willing to learn from them, said Dale Ponder, Managing Partner and Chief Executive of Osler, Hoskin & Harcourt LLP.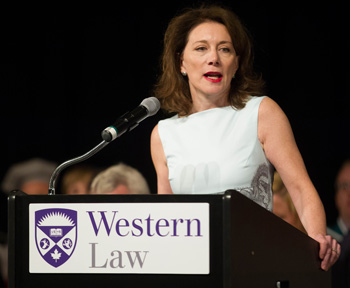 Ponder LLB'80 (left) spoke to law graduates at the Western Law Awards Ceremony held at Althouse College on June 19.
She reminded the class of 2013 that change takes courage.
"Don't short-change yourself and refuse to pursue something because of fear. Have confidence in yourself and your abilities, and go after what you want," Ponder said.
Ponder has been recognized three times as one of Canada's top 100 "powerful women" and was honoured as the "top" woman in the professional services category by the inaugural Women of Influence Top 25 Canadian Women in 2012.
Dean Iain Scott congratulated Western Law's newest grads on their achievement and remarked, "You are entering a profession that affords you a world of opportunity."
"Each of you has much to offer but, in turn, much will be expected of you. I know you will make significant contributions to both our profession and society."
Christine Tabbert '91, incoming President of Western Law's Alumni Association, officially welcomed the new grads into the alumni community and spoke about the importance of staying connected to their classmates.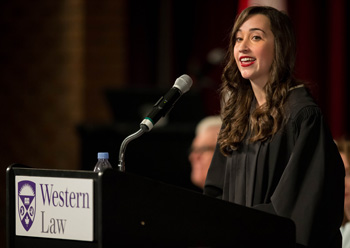 Valedictorian Lyndsey Kiser '13 (right) celebrated her classmates and provided some words of wisdom from the poem "Ulysses" by Alfred Lord Tennyson throughout her inspiring speech. 
 "'I am a part of all that I have met,'" she quoted from the poem while reflecting upon the past three years at Western Law. She applauded the class for their level of engagement in the school community "which has helped us build bonds that will endure far beyond graduation," she said.
 "While we may go on to carve different paths, the common thread binding our class is that we leave here today with the purpose of exploring those untraveled margins; I believe we'll play a critical role in innovating and reshaping them."
Kiser encouraged the Class of 2013 to be proud of their achievements and embrace the future. "In spite of the challenges that may face us, this group of graduates will go on to do great things," she said.
She concluded her talk with the poem's final lines,
"That which we are, we are--- 
One equal temper of heroic hearts, 
Made weak by time and fate, but strong in will 
to strive, to seek, to find, and not to yield."