CUSLI Lecture explores boundary waters conflict
CUSLI Lecture explores boundary waters conflict
November 01, 2013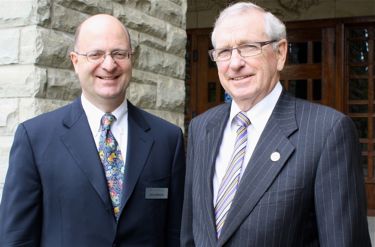 Commissioner Gordon Walker of the International Joint Commission (IJC) delivered the Seventh Annual Canada-U.S. Law Institute Distinguished Lecture at Western Law on October 30.
In his lecture "The Boundary Waters Treaty – A Peace Treaty?" Walker (pictured far right with Western Law Prof. Chi Carmody) outlined the history of the Boundary Waters Treaty of 1909 between Canada and the United States and delved into the treaty's operation and record.
Walker highlighted the treaty's definition of boundary waters and its creation of an International Joint Commission that helped end the many conflicts over the border between Canada and the U.S.
Gordon Walker is a graduate of Western Law. While a student at the law school (1964-67) he was given permission by the then-acting dean, A.W.R. Carrothers, to run for London City Council. Walker won the 1967 election and was later elected MPP for London North in 1971, and subsequently for London South in 1977.
In 1978 he became provincial Minister of Correctional Services and from 1978-84 served as Provincial Secretary for Justice.
After his service in government, Walker returned to the practice of law. He served an initial term at the IJC from 1992-95 and was reappointed to the IJC for a second three-year term in August 2013.
Walker is the first graduate of Western Law to serve as a CUSLI Distinguished Lecturer.
The Lecture was established in 2006 to highlight the mission of the Canada-U.S. Law Institute, a joint creation of Western Law and the Case Western Reserve University School of Law in Cleveland, Ohio.
Previous CUSLI Distinguished Lectures have been given by Allan Gotlieb, Q.C. (former Ambassador of Canada to the U.S.), Christopher Sands of the Hudson Institute, Washington, D.C., Prof. Janice Stein, Director of the Munk Centre, University of Toronto; Prof. Stephen Clarkson, Department of Political Science, University of Toronto; Patricia Birkholz, Director of the State of Michigan's Office of the Great Lakes, and Richard Cunningham, senior partner with Steptoe & Johnson LLP, Washington, D.C.