Coxford Lecture explores meaning of arbitrary government
Coxford Lecture explores meaning of arbitrary government
April 03, 2013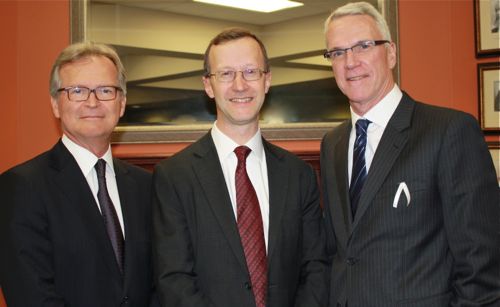 Professor Timothy Endicott, Dean of the Faculty of Law at Oxford University, spoke on "Interpretation and the Rule of Law" at the 5th annual Coxford Lecture at Western Law on March 28. (Watch video of lecture below).
Dean at Oxford since 2007, Endicott is one of the world's leading public law legal theorists and writes on jurisprudence and constitutional law with a special interest in law and language.
"It was a privilege to host Dean Endicott at the law school and we are very grateful to Stephen Coxford '77, Chair of the Board of Governors of Western University, for generously supporting this prestigious annual public law lecture series," said Western Law Dean Iain Scott.
Endicott's lecture argued that the job of interpretation is to determine the effect of a legal instrument rather than the intention behind it.
He explored the meaning of arbitrary government, using the 18th Century legal philosopher Jeremy Bentham's conception of the rule of law as his foil.
Drawing on precedents from the Supreme Court of India and the Supreme Court of Canada, he argued that the interpretive role of judges is in tension with the rule of law but it is not inconsistent with it, as Bentham insisted.
The annual Coxford lecture brings international scholars to Western Law to address important public law questions in order to promote and advance the rule of law.
Previous speakers in the Coxford Lecture series include Larry Alexander, Professor Jeremy Waldron, Professor Jeffrey Goldsworthy and The Hon Justice Ian Binnie.
The Coxford lectures are published annually in the Canadian Journal of Law and Jurisprudence.