2013 Lerners Cup competition
2013 Lerners Cup competition
October 03, 2013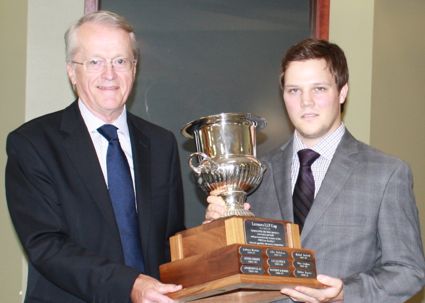 The 2013 Lerners LLP Cup, Western Law's annual internal appellate advocacy competition, drew 114 students to compete for several significant mooting prizes.
Charles Binns (pictured left with Justice Sharpe) was awarded Top Oralist; Lindsay Board and Rebecca Olscher were the winners of the top team in the preliminary rounds; Michael Landell and Randy McAuley won Best Appellant Factum; and Rachel McMillan and Arielle Kieran won best Respondent Factum.
The preliminary round was held during the week of September 23, with the support of numerous volunteers to serve as judges, clerks and schedulers.
The moot problem was an appeal of a 2012 decision of the Supreme Court of Canada – R v Boudreault, 2012 SCC 56. The case dealt with an intoxicated individual seated in the driver's seat of a parked car with the ignition on during a cold morning in February in rural Quebec.  The legal questions for the moot revolved around whether the individual had care or control of the car such that he could convicted of drunk driving under the Criminal Code.
 The distinguished bench that heard the arguments was made up of Mr. Justice Robert Sharpe (Ontario Court of Appeal), Mr. Justice William Jenkins (Ontario Superior Court of Justice, ret'd) and Mr. Michael Lerner (Senior Partner, Lerners LLP).
The Lerners Cup is generously supported by Lerners LLP.
View photos from event on Facebook