Wilkinson lauded with Intellectual Freedom award
Wilkinson lauded with Intellectual Freedom award
February 03, 2012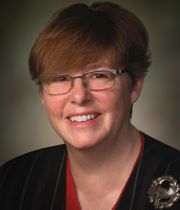 Western Law professor Margaret Ann Wilkinson has been awarded the Ontario Library Association's Les Fowlie Intellectual Freedom Award.
The award, presented at the Ontario Library 'Superconference' in Toronto on February 3 and 4, recognizes "the courage shown by individuals and organizations in defending the rights of library patrons to full access to information."
It is named in memory of Les Fowlie, a former Chief Librarian of Toronto Public Library who worked tirelessly on behalf of intellectual freedom in Canada.
The Ontario Library Association is Canada's largest and oldest library association, providing networking, educational, and advocacy opportunities for more than 5,000 members who work in all types of libraries.
"For the past ten years, as the copyright reform process has produced various proposed bills, Professor Wilkinson has demonstrated exemplary leadership in deciphering the proposed amendments, and assisting with the response from Canada's library sector," comments Tanis Fink, president, Ontario Library Association.
Wilkinson has been the OLA's copyright advisor (a position previously held by librarian Bernie Katz) and its representative to the Canadian Library Association's Copyright Committee and is one of the founding members of the Ontario Library Association's Copyright Users Committee. 
In November 2011 she attended the 23rd Session of the World Intellectual Property Organization's Standing Committee on Copyright and Related Rights in Geneva as a representative of the Canadian Library Association.
The meeting represented the first time libraries and archives have become, on their own, the focus of an international treaty development process for exceptions and limitations to copyright.
Wilkinson, Director of the Area of Concentration in Intellectual Property, Information and Technology Law in the Faculty of Law, has a long-standing research involvement with Canadian exceptions and users' rights for libraries under copyright and with international intellectual property concepts.
Amongst other writings, she is the author of two chapters that focus directly on libraries, amongst other institutions, in collections responding to recent Canadian attempts at copyright reform.