Visiting January Term faculty bring the world to Western Law
Visiting January Term faculty bring the world to Western Law
January 04, 2012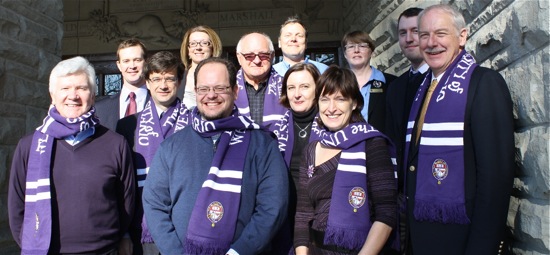 Back row (l-r): Brian Graves, Wendi Locke, Grant Hammond, Mark Perry, Margaret Ann Wilkinson, David Schnurr 
Front row (l-r): Ray Werbicki, Paul Yowell, Paul Secunda, Kerrie Sadiq, Hilary Linton, Barry Barton
Not pictured: Suzy Frankel, Jason Hynes, Michael Kobetsky, Paul Scott and Vasanthi Venkatesh
A group of leading academics and practioners from around the globe will call Western Law home for the next month as they take part in the school's unique January Term program. The visiting faculty will teach month-long intensive courses allowing upper year law students to delve into a specific area of legal studies.
"It's wonderful to offer such eclectic courses from a group of great scholars," says Associate Dean Mark Perry. "This is a terrific opportunity for our students and faculty to interact with outstanding legal minds."
Course offerings this year include: Mining Law and Project Finance; Judging the Judges; Comparative Intellectual Property; Securities Law – Concepts & Practice; Family Law Dispute Resolution; Advanced Intellectual Property; International Taxation: Policy and Practice; Competition Law; Contemporary Issues with the Wagner Model of Labour Law; International Human Rights and Global Justice; International Commercial Arbitration; and Comparative Constitutional Law.
"The January Term has always been an important and distinguishing part of our curriculum," says Dean Iain Scott. "The concentrated focus during our January Term affords students an opportunity to closely work and study with leading scholars and practitioners. We all benefit from exposure to this special diversity of talent and experience brought to Western Law."
The January Term 2012 Visiting Faculty:
Barry Barton, Stephen Dattels Fellow in Mining and Finance Law, University of Waikato; Susy Frankel, Faculty of Law, Victoria University of Wellington; Brian Graves, McCarthy Tétrault; Sir Grant Hammond, New Zealand Court of Appeal; Jay Hoffman, Miller Thomson LLP; Jason Hynes, Bereskin & Parr LLP; Michael Kobetsky, Melbourne Law School; Hilary Linton, James G. McLeod Professorship in Family Law, Riverdale Mediation; Wendi Locke, McCarthy Tétrault LLP; Kerrie Sadiq, TC Beirne School of Law, The University of Queensland; David Schnurr, Miller Thomson LLP; Paul Scott, Faculty of Law, Victoria University of Wellington;  Paul M. Secunda, the 2012 Hicks Morley Fellow, Marquette University School of Law; Vasanthi Venkatesh, Barrister and Solicitor, Toronto; Ray Werbicki, Steptoe & Johnson; and Paul Yowell, Turner Fellow in Public Law, University of Oxford.