Students launch new corporate restructuring moot
Students launch new corporate restructuring moot
March 13, 2012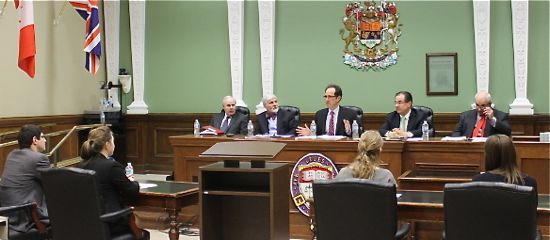 A new moot conceived of by Western Law students provides practical appellate advocacy experience in a business law context.
Launched on March 7, The Chaitons LLP Corporate Restructuring Advocacy Competition is the brainchild of Western Law students, Michael Kril-Mascarin and Lee Nicholson.
The competition involves students advocating on corporate restructuring issues arising from controversial court decisions.  Competitors argued the issues that have arisen from the Ontario Court of Appeal's recent decision in Indalex Ltd., Re.
"I developed an interest in corporate restructuring working as a researcher for Professor McLaren," says Michael Kril-Mascarin.  "The Indalex case presented the opportunity for students to tackle topical issues at the same time as the courts are addressing them."
The first year of the competition proved to be a huge success with students putting in impressive performances. The top appellant team was Vitali Berditchevski and Nina Plotnik and the successful respondent team was Claire Devlin and Anton Tchajkov.
The competition was judged by prominent members of the corporate insolvency bar and Justices of both the Ontario Court of Appeal and Ontario Superior Court of Justice. The judging panel consisted of: Justice Robert A. Blair, Ontario Court of Appeal; Harvey Chaiton, Partner, Chaitons LLP; Hon. James Farley, Senior Counsel, McCarthy Tétrault; Justice Geoffrey Morawetz , Superior Court of Justice of Ontario; and Justice Terrance O'Connor, Superior Court of Justice of Ontario.
"We were very honoured that our inaugural moot was judged by the leading jurists and practitioners in this area of law," notes Kril-Mascarin. "Many thanks to Chaitons LLP for its generous support and to the judges for volunteering their time and expertise."