Students compete internationally at the Vis Commercial Arbitration Moot
Students compete internationally at the Vis Commercial Arbitration Moot
April 09, 2012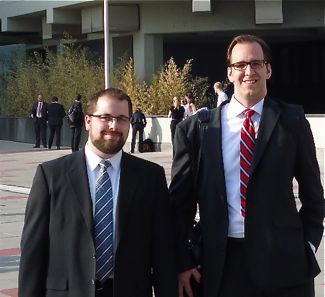 Two law students represented Western University for the first time at the Willem C. Vis International Commercial Arbitration Moot held in Vienna from April 2-6.
John Mather and Daniel Hynes (pictured left at the UNCITRAL Secretariat complex at the Vienna International Center) participated in the prestigious international moot court competition, which featured 282 schools competing from 68 countries.
The Vis Moot fosters study in the areas of international commercial and arbitration laws and encourages the resolution of business disputes by arbitration.
The problem for the moot is always based on an international sales transaction subject to the United Nations Convention on Contracts for the International Sale of Goods, 1980 and also involves procedural issues of arbitration.
Hynes and Mather won an honorable mention for their written submissions for the Respondent. Their moot problem, adjudicated before a panel of international arbitrators, examined a contractual dispute relating to a luxury yacht.
"The Vis Moot offers an unparalleled experience to meet and compete against schools from across the globe," said Mather. "We competed against schools from Brazil, Germany, Iceland and the Ukraine. It was a tremendous experience."
The first Vis Moot team would not have been possible without the support of Dean Iain Scott, Associate Dean Craig Brown and Associate Dean Mark Perry.  Professor Bruce Welling and Geoff Mowatt assisted greatly as coaches. Dimock Stratton LLP and Blake Cassels & Graydon LLP also provided financial support.