Norton Rose Canada LLP Supports Student Experience
Norton Rose Canada LLP Supports Student Experience
February 07, 2012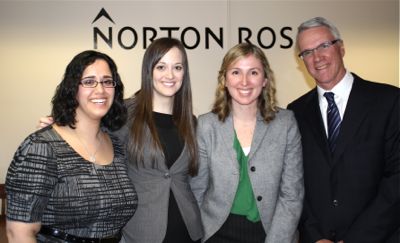 Norton Rose Associates Hoori Chitilan '10 and Laura Bursell '10 and Shannon Leo, Student and Associate Programs Manager at Norton Rose, with Dean Iain Scott
Western Law students can enjoy a renovated space to gather and relax thanks to the generous support from the law firm Norton Rose Canada LLP.
The $200,000 gift to the Faculty of Law will support a range of initiatives including significant upgrades to the student lounge, now named The Norton Rose Canada LLP Student Common Room.
Norton Rose Group, a leading international legal practice with more than 2,900 lawyers worldwide, offers a full business law service to many of the world's top financial institutions and corporations.
"We're delighted to partner with Norton Rose," says Dean Iain Scott. "As a leading global practice, Norton Rose is able to offer career and practice opportunities to our students unmatched in the Canadian marketplace."
"We're very committed to giving back to the law student community," says Michelle Gage, a Western Law graduate and National Director, Legal Talent at Norton Rose. "And we want to support students in as many ways as we possibly can."
Gage said that it was important to Norton Rose to provide students with a comfortable space to relax, interact and engage in informal learning.  "Law school is challenging," Gage adds, "and a balanced approach to school will make you a better student and person."
Stephanie Sugar, President of the Student Legal Society, agrees.
"Being a law student can be stressful," she notes. "The lounge is a place for students to have a respite during the day, to share ideas and enjoy the company of others. Thanks to Norton Rose our lounge is now a more welcoming and comfortable place for students."
"Student collegiality is strong at Western Law," adds Scott. "And this generous gift from Norton Rose greatly enhances that sense of community."