New Student legal journal inspires scholarship
New Student legal journal inspires scholarship
January 20, 2012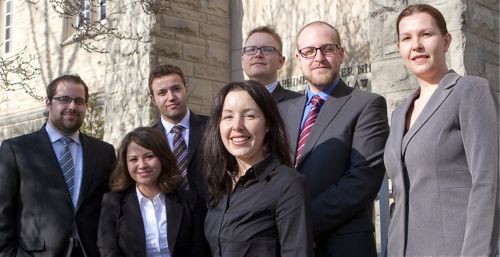 The students editors of The Journal of Legal Studies from left to right:John Mather, Elba Bendo, Eugene Polevoy, Lisa Di Valentino, Ben Tinholt, Scott Robinson and Anastasia Pasecinic.
Western Law's first student-driven law review journal promises to stimulate new thinking on a variety of social and legal issues.
The inaugural issue of The University of Western Ontario Journal of Legal Studies is now available online at http://ir.lib.uwo.ca/uwojls.
The Western Journal of Legal Studies is a general-focus publication featuring student work from across Canada. It's the first student journal to be published at Western Law in more than 25 years.
The first issue includes original articles on Niqab bans and Quebec identity, personality rights across Canada, and the failings of Ontario's Rules of Professional Conduct to guide Family Law lawyers through acrimonious disputes. This last paper won the Rueter Scargall Bennett LLP Essay Prize in Legal Ethics, as selected by the Office of the Chief Justice of Ontario's Advisory Committee on Professionalism.
"For the past year student authors and editors have been working diligently with the tremendous support of faculty members," says John Mather, one of the student editors.  "We're excited about the content of the first issue and believe it sets a strong precedent for the quality of research and analysis future issues will contain."
The Journal adds to the current array of law reviews in Canada where law students can publish their work and also provides Western Law students with a valuable opportunity to develop and practice the skills associated with academic writing and publishing.
Published entirely online, The Journal of Legal Studies operates on a hybrid model of peer review. Student editors select papers for possible publication and professors in the relevant fields provide brief general assessments.
"It's been a student initiative all the way and reflects well on the intellectual activity that goes on among our student body," notes Professor Michael Lynk, a faculty advisor.
"I hope it inspires students to engage in the fascinating debates that are going on in the law and encourage quality student legal scholarship."
The Journal is seeking submissions for its second publication scheduled for release in June 2012. All submissions received by February 6, 2012 will be considered for publication. Submissions after that date will be considered on a rolling basis.
For more information on the Journal or its inaugural issue, please contact the Journal at jls@uwo.ca