Mooting excellence on display at Lerners Cup
Mooting excellence on display at Lerners Cup
October 11, 2012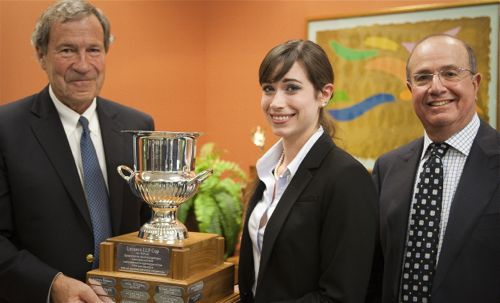 On October 4 the Faculty of Law witnessed student advocacy at its finest as eight finalists competed in the 2012 Lerners Cup. After a hard-fought final round, Stephanie Marentette (pictured above with Justice O'Connor and Michael Lerner) was named the winner of this year's Cup.
The students were judged by a stellar bench made up of Associate Chief Justice Dennis O'Connor of the Court of Appeal of Ontario, Mr. Justice Tom Granger (ret'd), Mr. Justice Duncan Grace and Michael Lerner.  
The students argued an appeal of the ruling by the Saskatchewan Court of Appeal in R. V. H. (A.D.) 2011 SKCA 6, a criminal law case dealing with charges against a mother for the unlawful abandonment of a newly-born infant in the washroom of a department store.
Other winners included:
Edward O'Dwyer and Tori Crawford won the Justice C.D. Stewart Trophy for the top-ranked team in the preliminary rounds.(pictured below)
Julia McNabb and Rachel Bengino won Best Appellant Factum Award
Tanya Jawa and Simon Reis won Best Respondent Factum Award

"Thanks to all of the participants and organizers for making the 2012 Lerners Cup such a success," said Professor Michael Lynk, the moot's faculty advisor. "And a special thanks to Sylvia Davis and Michael Lerner and Lerners LLP for their consistent support of the Cup through the past 12 years."
"The Lerners Cup is one of the annual highlights of the law school calendar, and serve as the centrepiece for the great mooting and advocacy culture at Western Law," said Lynk.