Jessup Moot team heads to international finals
Jessup Moot team heads to international finals
March 12, 2012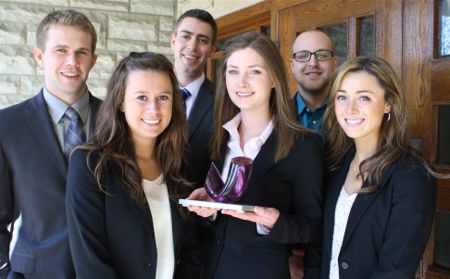 (l-r)  Ryan Baulke, Michele Cousens, Jeff Claydon, Anna Tombs, Team advisor Scott Robinson and Lauren Dalton are heading to Washington D.C. to compete in the international finals of
The Jessup Moot
A second-place finish at the 2012 Jessup Moot earned a Western Law team a chance to compete in the International finals.  The White & Case Canadian National Division Qualifying Tournament of the 2012 Jessup International Law Moot Court Competition was held this past week in Montreal.
As a result of their stellar performance at the Canadian Tournament, the team of Ryan Baulke, Jeff Claydon, Lauren Dalton and Anna Tombs, and researcher ("of counsel") Michele Cousens advance to the Jessup International Rounds to be held in Washington D.C. on March 25-31.
Anna Tombs was also awarded best oralist in the final rounds
The top two Canadian schools advance to compete in the International Rounds.
Now in its 53rd year, the Philip C. Jessup International Law Moot Court Competition is the world's largest moot court competition, with participants from over 500 law schools in more than 80 countries. The Competition is a simulation of a fictional dispute between countries before the International Court of Justice, the judicial organ of the United Nations. One team is allowed to participate from every eligible school. Teams prepare oral and written pleadings arguing both the applicant and respondent positions of the case.
This season's Jessup Problem addresses the legality of the destruction of a cultural site, who may represent a State after a coup d'etat, and State responsibility for a regional operation.
This is the best finish for Western Law in its history of participating in the Jessup Canada moot, and is the first time that Western Law has advanced to compete in the International Rounds.
"The entire team has worked incredibly hard since September, putting in hundreds of hours drafting the Memorials and spending more than seventy hours each in the past six weeks doing oral practices," said Professor Valerie Oosterveld, the team's coach.  "They were wonderfully professional throughout. I am very proud of what they have accomplished."
Thanks to Scott Robinson for his dedication to the team as Team Advisor, and alumnus Chris Sinal '11 for his assistance with the oral practices and to all of the professors, students, alumni and practicing lawyers who sat as practice round judges.