In a world of danger, a safe place to teach
In a world of danger, a safe place to teach
June 01, 2012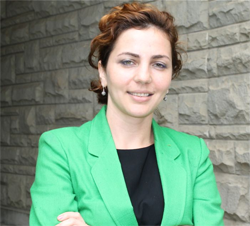 In some countries, scholars are being taught the finer points of intimidation, threats of physical harm, harassment and surveillance.
Such was the case for Anna Dolidze (pictured left), from the Republic of Georgia in the former Soviet Union, who is being welcomed to Western Law under the Scholars at Risk Network (SAR).
Western Law has become the first faculty of law in Canada to invite and host a legal scholar through the Scholars at Risk program, an initiative that brings scholars facing severe human rights abuses in their home region to positions at universities, colleges and research centers in a safe country. 
Prof. Dolidze will join Western Law for one year to teach and research in the area of international law. She is currently completing her doctorate at Cornell Law School on how NGOs contribute to the development of international law.
Dolidze worked as a public interest advocate in Georgia and was chair of the Georgian Young Lawyers Association (GYLA), the leading human rights organization in that country. In 2004, when the current Georgian government came to power, she became a vocal critic of its increasingly authoritarian rule and abuse of power.
Dolidze advocated for government transparency, accountability and criminal justice reform and provided frequent critical commentary in the media on the dismissal of judges and subordination of the judiciary to the ruling political party.
She was also the leader of the social movement to punish the murderers of Sandro Girgvliani, a young man killed by high-level Georgian security officials.
As a result of Dolidze's public criticisms, the Georgian minister of Defense and other public officials targeted her with direct verbal attacks, including threats of physical violence. They placed her under surveillance and demanded her resignation from the human rights organization.
 "I became so concerned and aware of my security that I wasn't being effective in my work," says Dolidze.
She left Georgia in the spring of 2007 and went to New York City where she received a fellowship at New York University as part of the Scholars at Risk program. At NYU she wrote and presented papers in the area of international and human rights law before starting her PHD at Cornell University.
Dolidze will be teaching a course in Public International Law at Western's Faculty of Law this fall, as well as a course in Law and Development at the Department of Political Science.
"Scholars at Risk provided safety and security when I needed it most," says Dolidze.  "It gave me very important institutional support when I had none. This opportunity at Western provides me a possibility for a transition to an academic career for which I am very grateful."
Western Law Professor Michael Lynk, who was instrumental in bringing Dolidze to Western, notes, "We are at the forefront of Canadian universities actively supporting the work of Scholars at Risk, protecting academic freedom worldwide through advocacy on behalf of threatened academics, and offering term placements for scholars in exile.
"Anna is a great example of the importance of the SAR program. She is on her way to becoming an outstanding international human rights legal scholar," Lynk says.
Dolidze holds an LLM from Leiden University in The Netherlands (2004) and a BA/LLB from Tbilisi State University (2002). She was recently a Podell Global Scholar at New York University School of Law, and a Visiting Fellow at Columbia University's Harriman Institute for Russian, Eurasian and Eastern European Studies.
She has also lectured in human rights law at the Caucasus School of Law and at Georgian-American University, both in Tbilisi. She has extensive practical experience in the field of human rights, including at the Permanent Court of Arbitration in The Hague and as Program Officer for Save the Children International Alliance, and conducting research for Human Rights Watch.
Western is playing a leading role in the Canadian SAR Network and Dolidze will present her story at the launch of Scholars at Risk, Canada Section at Massey College, University of Toronto on Friday, June 22.