Harvard law scholar is visiting professor in Business Law
Harvard law scholar is visiting professor in Business Law
March 14, 2012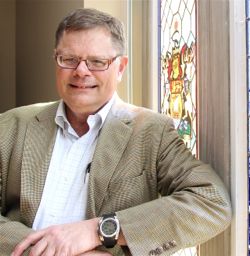 One of the world's most prolific and influential corporate legal academics visited Western Law as the inaugural holder of the Richard H. McLaren Visiting Professorship in Business Law.
Reinier H. Kraakman (pictured left) of Harvard University taught a course at Western Law entitled, "U.S. Takeover Law in a Comparative Perspective" to upper year JD students in March 2012.
"We are continuing to build upon our strength in business law and we are thrilled this professorship has enabled us to recruit a scholar of such international standing in this field," says Dean Iain Scott.
"Professor Kraakman's class was an intimate and engaging foray into U.S. takeover law," notes Western Law student Jeremy Bernstein. "He challenged the class to think beyond the jurisprudence and consider the policy reasons that give rise to the framework for takeover law in all economically developed jurisdictions. It was a fantastic learning experience because of Professor Kraakman's teaching style, class discussions and the material."
Kraakman is the Ezra Ripley Thayer Professor of Law at Harvard Law School and his research interests include: Business Law; Comparative Company Law; Corporate Governance; Corporate Takeovers; Limited Liability; Shareholder-derivative Suits; and Third-party Enforcement Strategies.
He is the author or co-author of some of the world's most frequently-cited scholarly articles on corporate law including, among many others, (with Henry Hansmann (Yale)) "The End of History for Corporate Law" 89 Georgetown Law Journal 439, "The Essential Role of Organizational Law" 110 Yale Law Journal 387 and "Organizational Law as Asset Partitioning" 44 European Economic Review 807; and (with Ronald Gilson (Stanford)) "The Mechanisms of Market Efficiency" 70 Virginia Law Review 549. He is also a co-editor and co-author of the groundbreaking comparative corporate law book, The Anatomy of Corporate Law (Oxford University Press), now in its second edition. 

"We're delighted Professor Kraakman has accepted our invitation to become Western Law's first Richard H. McLaren Visiting Professor in Business Law," says Professor Christopher Nicholls. "His course is a wonderful opportunity for our students to engage with a leading international scholar, and his visit is a fitting tribute to Richard McLaren's unparalleled contribution to Canadian business law education."

The visiting professorship honours Western Law professor Richard McLaren - an inspirational teacher and mentor to hundreds of Western Law students known as 'McLarenites'. A member of Western's law faculty since 1972, his expertise in the areas of commercial, bankruptcy and business law has resulted in publications that are regarded as leading scholarly works in their fields.

McLaren has also been an arbitrator in five Olympic Games and numerous anti-doping disputes for both amateur and professional organizations.

The McLaren Visiting Professorship was formally launched in Toronto on March 9 where Kraakman delivered a lecture hosted by Goodmans LLP entitled "The U.S. Housing Market Crisis and the Efficient Capital Market Hypothesis".

Allan Leibel, Partner at Goodmans LLP, delivered welcoming remarks on behalf of the firm.  Guests at the lecture included Western Law alumni from Goodmans, Davies Ward Phillips & Vineberg LLP, and Wildeboer Dellelce LLP as well as senior faculty from the law school.

Dean Iain Scott thanked Davies LLP, Goodmans LLP and The Kavelman-Fonn Foundation for their major gifts in support of this professorship and acknowledged the many alumni and friends who generously donated to the project.

"It is because of your generous support of the Richard H. McLaren Visiting Professorship in Business Law that we are able to bring world-class scholars such as Professor Kraakman to Western Law to teach and provide advanced scholarship in the area of business law," he said.