CUSLI Lecture Explores Global Trade
CUSLI Lecture Explores Global Trade
October 18, 2012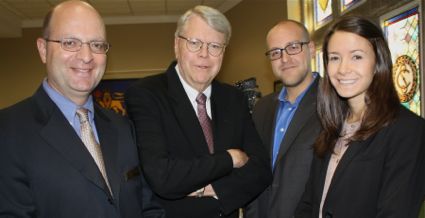 Prof. Chi Carmody with Richard Cunningham and Western Law students Scott Robinson 
and Katharine Brickman
Richard Cunningham, Senior Partner at Steptoe & Johnson LLP in Washington D.C., gave the Sixth Annual Canada-United States Law Institute Distinguished Lecture on Tuesday, Oct. 16 on the subject of "Trade after Doha: the Growing Divide between the Emerging Nations and the Developing World" (view video below). Cunningham is an international trade specialist and member of the CUSLI Executive Committee.
Cunningham's lecture focused on how differences in views over the best way to manage globalization have caused international trade negotiations, organized under the banner of the 'Doha Round' in the World Trade Organization (WTO), to stall.
Cunningham asserted that developed countries need enhanced access to growth markets to kick-start their floundering economies. At the same time, however, he said developed countries are not prepared to open their own markets to developing country agricultural products and light manufacturing. The result is a standoff in global trade talks.
What has emerged instead, Cunningham said, is renewed attention to regional trade deals. The United States, for instance, has been aggressively negotiating a Transpacific Partnership (TPP) with 11 other countries including Canada and Mexico. Cunningham said that the TPP negotiations foresee liberalization of a number of new "behind the border" issues, such as regulatory harmonization, investment and intellectual property protection, that the WTO membership has so far been reluctant to deal with. While the TPP may represent a step forward, Cunningham said the projected transpacific trade pact has limited membership, poses a threat to China and eventually could be vetoed by a hostile American Congress.
He said that Canada could play a constructive role going forward by nudging the U.S. and the European Union to make trade concessions in order to revive the Doha Round and to reshape the TPP so as to make possible the inclusion of China, India and other major emerging economies.