Class of 2012 encouraged to follow their own path
Class of 2012 encouraged to follow their own path
June 18, 2012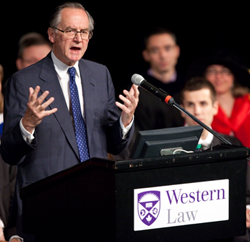 Family, friends and faculty gathered at Althouse College on June 15 to honour and congratulate Western Law's Class of 2012.
In a humorous and heartfelt address, the morning's distinguished guest speaker Ian Binnie, former justice of the Supreme Court of Canada (pictured left), told the newly-minted grads "the journey is more important than the arrival." 
Binnie also spoke at the University's afternoon's convocation ceremony where he was honoured with a Doctor of Civil Law, honoris causa (LL.D.)
A well-known constitutional expert and former Associate Deputy Minister of Justice for Canada, Binnie acted as legal counsel to the Joint Committee of the Senate and House of Commons on the Meech Lake Accord. In April 2012 he joined Lenczner Slaght Royce Smith Griffin LLP, Canada's leading litigation firm, as counsel.
He encouraged the Class of 2012 to find their own voice and not to live somebody else's vision of what life is supposed to be.
"You may have a picture in your mind how your career will all be mapped out, but my advice to you is to throw all of that away. You have to find your own path."
"Seize opportunities and have the self-confidence to take the opportunities when presented," he said.
Binnie modestly told the audience that he rose in his own career by a "process of serendipity" and that he owed his success to the practice of "self promotion and opportunism."
He referenced his time as a lawyer for CIDA in Tanzania and working for Canada's Federal Justice department as examples of taking advantage of an unexpected opportunity.
"When the Charter arrived it was a wonderful opportunity. I got involved with cases and made a name for myself."
"Don't have a picture, just follow the path wherever it leads," he advised.
He concluded by telling the grads, "Take chances, step up with self-confidence and have a wonderful career."
Warren Bongard '91' President  of Western Law's Alumni Association officially welcomed the grads into the alumni community and spoke about the importance of staying connected to their clasmates.
Jeffrey Warnock '12, the class valedictorian, celebrated the 2012 grad's achievements and provided some words of advice.
"Remember that the law, or indeed any profession you choose to pursue, does not require your future successes to be measured by things like hirebacks, or titles, or fancy offices, or paychecks, or who is working the most high-profile cases. But instead, it can be measured by the small yet meaningful contributions that each of you can make to your communities, to your colleagues, and to your profession."
He congratulated the class on their collegiality and sense of community.
"By working together and supporting one another we were able to accomplish some pretty amazing things," he reflected.

Dean W. Iain Scott congratulates a student as she walks across the stage at Althouse College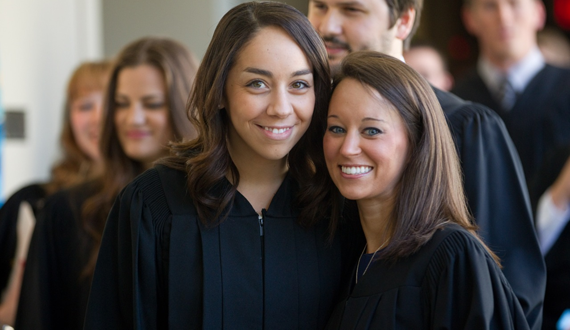 Two Western Law students pose in their Convocation robes