Chief Justice receives Honorary Degree from Western
Chief Justice receives Honorary Degree from Western
October 29, 2012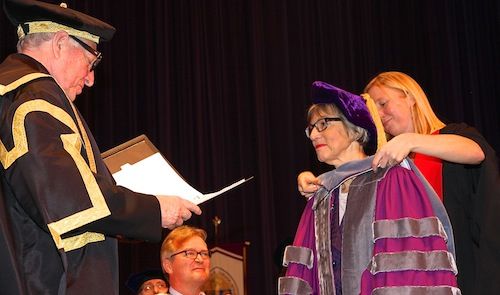 By Communications Staff
Today's graduates should look ahead to the grand arc of their lives, a time during which they'll grow and learn to give back to their communities, said Beverley McLachlin, the 17th Chief Justice of Canada and first female chief justice of the Supreme Court.
McLachlin spoke to graduates from the Faculty of Law, Faculty of Information and Media Studies, Faculty of Social Science and School of Graduate and Postdoctoral Studies at the Friday, Oct. 26 afternoon session of Western's 300th Convocation.
Western conferred an honorary Doctor of Civil Law, honoris causa (DCL) upon McLachlin in recognition of her distinguished career as one of Canada's great judicial leaders.
"Your degrees will enable you to take up the work," McLachlin told the graduates, noting their training at Western has prepared them well for a life of advancing Canada's sociopolitical and economic landscape.
"Do whatever you choose to do to the best of your ability. Errors will be forgiven, shortcomings accepted. But build, you must."
Raised on a farm near Pincher Creek, Alta., McLachlin studied at the University of Alberta. She practiced law close to home and in British Columbia, where she also taught law at the University of British Columbia.
In 1981, McLachlin was appointed as a judge to the County Court of Vancouver. From there, she climbed the judicial ladder quickly, going from the Supreme Court of British Columbia to the Supreme Court of Canada – all by the age of 45. Less than one year later, she was sworn in as Chief Justice of Canada. McLachlin is the second-longest serving Chief Justice in the court history.
While McLachlin sat on the bench, the Supreme Court faced a number of controversial challenges. Some of the most-notable judgments issued under her leadership include ruling on same-sex marriage, health-care policy, human rights in the workplace and the rights of the criminally accused.
Years from now, when graduates reach old age, it's important for them to use the life skills and experiences gained to contribute back to their communities, said McLachlin.
"We often overlook the importance of singular events, moments when your track changes. Life has surprises, upsets – some good, some bad. They happen to everyone," she continued.
She noted graduates' education, gained wisdom and life experiences will help not only them deal with life's unexpected, sometimes difficult, moments, but will help the graduates guide others as well.
In his citation, Law professor Michael Lynk said McLachlin has been an exemplary judicial leader throughout her career.
"Chief Justice McLachlin has redefined and embraced the role of a modern judicial leader. Beyond her leadership at the court, she gives dozens of speeches a year across Canada and around the world, engaging Canadians in an active conversation about their court. In this busy part of her job, she explains the court's work, demystifies what it is that judges do and talks about the rule of law as one of our greatest common goods in a democracy," Lynk said.
"In her words, Canada under the Charter is characterized by three values: it is, she has said, all about "respect for values, respect for difference and a commitment to the resolution of differences by peaceful compromise."
McLachlin added graduates will learn to anticipate and respond to all the challenges ahead of them.
"There's so much more work to be done, so much to be understood, so many people to be helped."
While at Western, McLachlin also spoke to an overflow room of students at the Faculty of Law. McLachlin provided insights about her life and career as part of Western Law's Distinguished Speaker Series.
View photos from her visit to Western Law on Facebook and view video of her talk below. 
The Right Honourable Beverley McLachlin, Chief Justice of Canada - "A Judicial Career" from Western Law on Vimeo.