Challenging Orthodoxy Conference
Challenging Orthodoxy Conference
July 23, 2012


(l-r) Western University President Amit Chakma, Prof. Erika Chamberlain and Dean Iain Scott welcome The Right Hon. Beverley McLachlin to the conference
Western Law hosted the sixth biennial conference on the Law of Obligations from July 17-20, 2012. With a theme of "Challenging Orthodoxy," the conference featured over 60 speakers from throughout the common law world. They presented on leading edge topics in torts, contracts, equity, unjust enrichment and private law theory, suggesting new approaches to both traditional and emerging issues.
The plenary speakers included Chief Justice Beverley McLachlin and Justice Thomas Cromwell (Supreme Court of Canada), John Goldberg (Harvard), Andrew Robertson (Melbourne), Ernest Weinrib (Toronto), Richard Wright (Chicago-Kent) and Ben Zipursky (Fordham). The conference also included advance discussion of The Foundations of Contract Law, a forthcoming book by Melvin Eisenberg of Berkeley.
The conference organizers were Western Law Professors Jason Neyers, Erika Chamberlain and Stephen Pitel (pictured below with Justice Beverley McLachlin).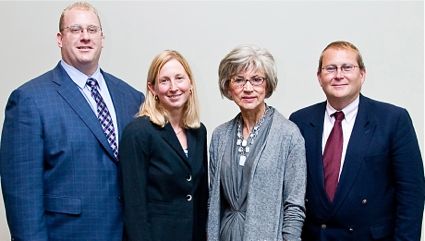 Among the presenters, Western was represented by Professor Dennis Klimchuk, Professor Emeritus Gerald Fridman, QC, and Zoë Sinel, who will be joining the Faculty in 2013.
Also in attendance were numerous members of the Canadian judiciary, including Justices Gillese, Goudge, and Rouleau from the Ontario Court of Appeal.
"We're extraordinarily fortunate to have assembled such a compelling program for Obligations VI," says Professor Neyers. "It's rare to have the bench, bar and academy from four continents come together to discuss the law of obligations. I hope the discussions will have an impact on the way cases are argued and decided for years to come."
Dean Scott expressed his pride in Western's tradition of excellence in private law and was pleased that Obligations VI will build on this reputation.
The Obligations Conference originated at the University of Melbourne in 2002 and has since become of one of the leading conferences in the common law world. Previous conferences have been held at the University of Queensland, the National University of Singapore and Oxford. Obligations VI marked the first time that the conference was held in North America. 
Western Law is grateful to the conference sponsors: Borden Ladner Gervais LLP, McCarthy Tétrault LLP, Cohen Highley LLP, Lerners LLP, McKenzie Lake LLP, Hart Publishing, and Carswell. The conference was also supported by the Social Sciences and Humanities Research Council.
 "Our sponsors' support is essential to mounting a conference of world-class scholars," says Professor Pitel.  "It allows for the challenges to orthodoxy that are vital to the evolution of private law."
Selected papers from the conference will be published in a volume to be released in 2014 by Hart Publishing.