Binnie encourages all to build just society
Binnie encourages all to build just society
June 19, 2012
Written By Adela Talbot, Western News
Photo by Paul Mayne, Western News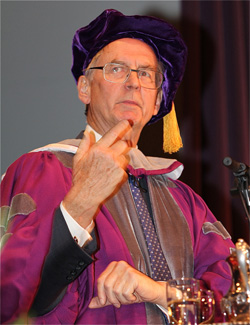 In the hard sciences, such as engineering, progress is constant, but in law, progress is an ongoing battle and today's graduates will have to choose to make the kind of society they want to live in, said former Justice of the Supreme Court of Canada Ian Binnie.
Binnie spoke to 555 graduates from the Faculty of Engineering, Faculty of Law and School of Graduate and Postdoctoral Studies at the Friday, June 15 afternoon session of Western's 299th Convocation.
Western conferred an honorary Doctor of Laws, honoris causa (LL.D.) upon Binnie in recognition of his distinguished legal career, his many contributions to Canadian jurisprudence, the broader legal community and Western.
Engineers, when they build a bridge, can be sure it will stand for generations, Binnie said. Once a problem is solved, it is solved for good. This is not the case with law and societal change and progress.
"In building the kind of society that we want to live in, we seem to circle around from generation to generation. But we are far from solving the basic problems, although we're doing a better job than we did before," Binnie said.
Binnie, an alumnus of McGill University, went on to study law at Cambridge University and the University of Toronto. He was the first Canadian to be elected president of the Cambridge Union Society. Binnie worked as a litigator in Toronto in 1967 and then served as associate deputy minister of justice for Canada, from 1982-86 after which he returned to private practice. He taught law at Western as an honorary professor for the past number of years.
He has, on behalf of the Canadian government, argued before the International Court of Justice against the United States in the Gulf of Maine dispute and against France in the Saint-Pierre & Miquelon boundary dispute. He was also appointed as special parliamentary counsel on the Meech Lake Accord. Binnie is a member of the Ontario, Yukon and English bar and has occasional calls in other provinces.
In 1998, Binnie was appointed – straight from the bar – directly to the Supreme Court of Canada. Within one month, he sat with the court to hear the Quebec Secession Reference during which the Court was asked in its deliberations to "assume" a unilateral declaration of independence by the Government of Quebec, following a hypothetical majority vote on a hypothetical referendum question.
During his 14 years on the Supreme Court bench, Binnie participated in more than 960 of the 1,070 cases the court heard during that time. He wrote 170 judgements, including landmark decisions on aboriginal law, criminal law, intellectual property and standards of review in administrative law cases.
"There are issues you (graduates) are going to have to individually make up your mind on, on what kind of society you want," Binnie said, noting recent injustices around the world, among them terrorism, human trafficking and power imbalances in government.
In his citation, Faculty of Law Dean Iain Scott praised Binnie for his passion, noting he has greatly contributed to Canadian jurisprudence.
"It is clear he does what he does because he loves it – he loves the challenge, complexity and utility of the law in all of its manifestations," Scott said.
"We are all better for his presence on the court. (Binnie's) judgments and contributions to the court were practical and realistic, creative and bold all in furtherance of the rule of law. His is a legacy that hopefully will continue to flourish in our courts and the administration of justice in Canada."
Binnie added building the kind of society all can agree on as just is a fragile task.
"This is the responsibility which you will all have as our generation throws a somewhat tattered torch to you as you embark on your careers," Binnie said.
Also during the ceremony, Law professor Stephen Pitel was presented with the Edward G. Pleva Award for Excellence in Teaching.