Alumni honoured at awards ceremony
Alumni honoured at awards ceremony
November 06, 2012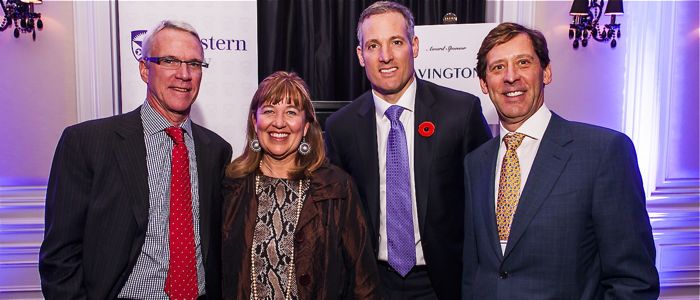 Three outstanding alumni were celebrated for their achievements in community service, leadership and mentoring, and business acumen at the 2012 Alumni Awards of Distinction Reception held on November 1 at the Trump Hotel in Toronto.
View photos of event on Flickr.
"Rosemary McCarney '77, Peter Aceto '91 and Jay Carfagnini '80 have all made a significant impact in their chosen fields," said W. Iain Scott, Dean of Western Law. "Their successful careers are a testament to the value of a top legal education and we are so proud of their accomplishments."
Warren Bongard, President and co-founder of ZSA Legal Recruitment and President of the Western Law Alumni Association, presented the 2012 Alumni Awards of Distinction.
The Community Service Award was presented to Rosemary McCarney, President and CEO of Plan Canada. Rosemary is truly making a difference in our global community.
Rosemary's journey has taken her from a corporate law office on Wall Street to working with children and families in some of the world's most marginalized and conflict-ridden communities.
As President & CEO of Plan Canada, one of the country's oldest and largest charities, Rosemary brings her skill and passion to those who need it most.Under her dedicated leadership, Plan Canada works in over 60 countries to enable sustainable peace and development for families and communities and to support childrens' rights.
She is a champion of Plan's 'Because I am a girl campaign' - a global initiative to promote girls' rights. That campaign, along with the dedicated support of thousands of Canadians, led the United Nations to declare October 11 the International Day of the Girl. 
Peter Aceto, CEO of ING Direct, was honoured with the 2012 Business Leadership Award for his role as a visionary business leader. Under Peter's leadership, ING DIRECT was recognized as one of Canada's 50 Best Employers for two consecutive years, 2010 and 2011, as well as one of Canada's Top 10 Most Admired Corporate Cultures in 2011.
He's a passionate communicator and widely known for his innovative use of social media and his strong belief in employee engagement. In 2010 that passion was recognized when the Toronto Chapter of the International Association of Business Communicators named him 'Communicator of the Year'.
Since 2008, Peter's innovative leadership and communication style has helped ING DIRECT become Canada's leading direct bank with more than 1.7 million clients and more than $29 billion in total assets.The recent acquisition of ING Direct by Scotiabank creates yet another opportunity for this innovative business leader.
The Ivan Rand Alumni Award which recognizes superior contributions to both the Law School and to the Alumni community was presented to Jay Carfagnini.
As a partner and head of the Corporate Restructuring Group at Goodmans LLP, Jay has consistently been identified as a leading practitioner of insolvency and restructuring law by numerous national and international legal publications.
Jay has maintained a strong connection to the school and forged lasting relationships with his fellow alumni. He is a long-time and very proud supporter of the school and gives generously of both his time and means to ensure Western Law continues to be a leading law school in Canada.
Jay has been an invaluable mentor and offers his expertise to the Dean and with alumni events, student initiatives and teaching. His emotional tie to the school is strong. He met his lovely wife Karen Trimble '80 on his first day of law school in Richard McLaren's small group class.
Jay and Karen have been generous supporters of the school and were lead donors in the establishment of the Richard McLaren Visiting Professorship.
Joseph L. Rotman, a renowned Canadian businessman and philanthropist and newly installed 21st Chancellor of Western University, congratulated the award recipients.
"All three alumni through their achievements and accomplishments tell the story of what makes Western special, and why the Western experience is so important," he said. "While the impressive career paths of our award winners led them to unique destinations – in business, on Bay Street and in the not-for-profit sector around the globe - each of their journeys began at Western's Faculty of Law."
Western Law would thanks the generous sponsors of this event: Lead Sponsors ING Direct, Avington Financial and Manulife Financial; and Platinum Sponsors: ZSA Legal Recruitment, Goodmans LLP, Computershare/Georgeson, Wildeboer Dellelce LLP and Davies Ward Phillips & Vineberg LLP.